18th September 2015
Laburnum Boat Club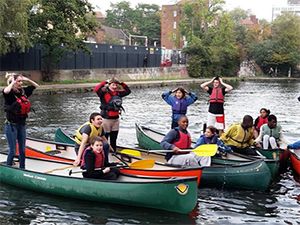 This large, open-decked boat is very stable and so perfect for beginners, particularly those with mobility or weight problems. The Club caters for young people with disabilities.
The Canoe has been used throughout the year, by our many different Clubs which cater for young people with disabilities. It allows up to 4 people to paddle together, so it is great for someone who is anxious, or a novice or needs additional support from a member of staff. Being open-decked it also ensures that it will not trap anyone if it were to capsize.
The canoe was used extensively over the summer holidays, when over one hundred young people a day were attending our Youth Club or accessing activities through outside groups.