Sunshine Coaches are minibuses that have been specially adapted to meet the needs of children with disabilities and special educational needs, allowing them to access places they would otherwise not be able to visit in a safe and enjoyable way.
Our Sunshine Coach programme is a unique three-way partnership between schools or youth clubs, businesses, and Variety.
Having a minibus to get us around and about opens new possibilities not just for pupils but also for their families. It was wonderful to know that BJ Bingo and Variety have worked together to enable us to get this brilliant new vehicle and we can't thank them enough for their generosity.

Liz Loftus Head Teacher at Rowan Tree School
Sunshine Coach sponsors can have their logo displayed on both side doors and one back door, putting the sponsor's brand 'on the move' for the full lifetime of the coach – which is typically 10 to 12 years. The brand awareness this creates can have a real impact, particularly if the coach is travelling around communities in which the sponsor has a special business interest.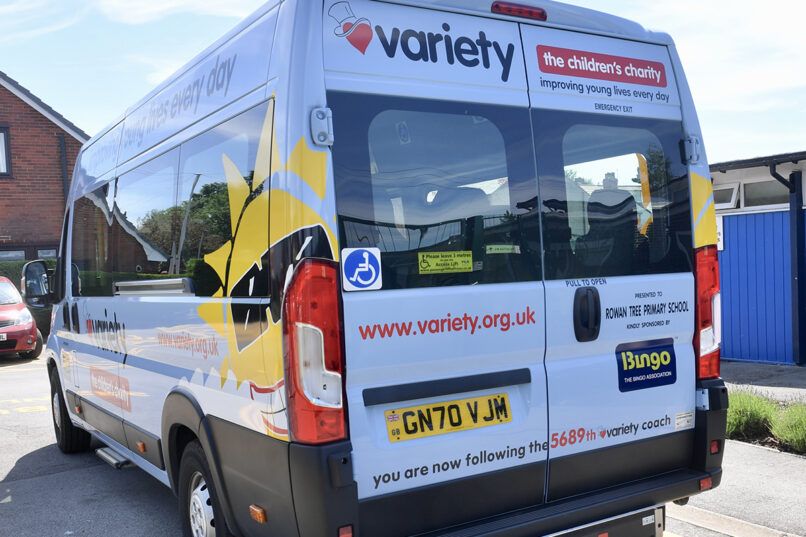 Each coach is presented by the sponsor to the beneficiary school at a special event where they are able to see first-hand what the gift of a coach means for the pupils.
Got a question?
If you would like to know more about Variety's Sunshine Coach programme, please contact us on 020 7428 8100 or coaches@variety.org.uk