Wheelchairs for children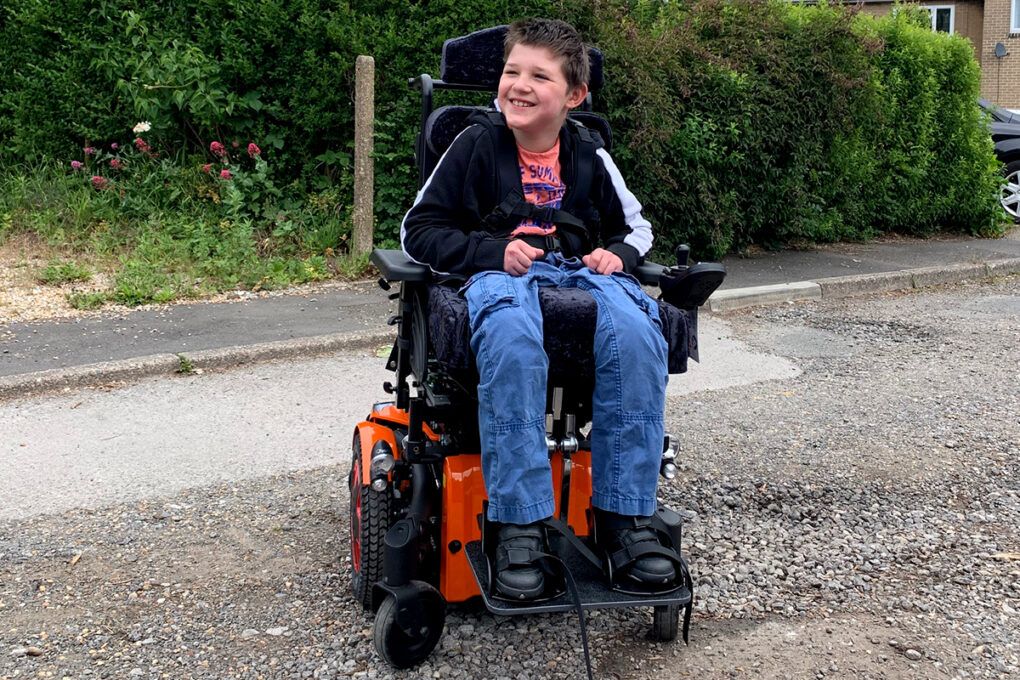 Grants that open up the world for young people with disabilities
The right wheelchair can bring independence to a child or young person, giving them the freedom to explore their environment in their own way, get around at school, keep up with their friends and take part in social activities, sports and hobbies.
We know that a wheelchair has to be appropriate for each child's needs and environment, however, and this is why we part-and-fully fund a range of different manual, powered and sports wheelchairs according to their age, medical condition and lifestyle.
A wheelchair from Variety has given Alfie a lot more freedom. He can now finally use the family's garden on his own, as he can move around it with ease.

Mum, Emily
What wheelchairs does Variety fund?

Lightweight manual wheelchairs that are easy to manoeuvre and easy to transport; many can be folded and placed in the boot of your car
Powered wheelchairs which enable children and young people to get around more easily at school and keep up with their friends
Standing wheelchairs which offer greater independence and reduce the risk of secondary complications associated with prolonged sitting in wheelchairs
All-terrain wheelchairs for children who love the outdoors
Sports wheelchairs, both manual and powered, so that young people can progress to the top of their game – we fund all types of sports wheelchairs.

All the wheelchairs Variety provides are bespoke in order to meet the needs of the user. We have no preferred suppliers but use the supplier of your choice instead. This means you will get exactly what you need.
Who can apply?

Your child is eligible for a wheelchair grant if they meet the following criteria:

They're aged 18 or under
They have a recognised disability or long-term health condition that permanently affects their mobility

We accept applications from young people themselves who are over the age of 13.

Non-profit sports clubs working with children and young people are also eligible to apply for sports wheelchairs for use at the club.
How do I apply for a grant?

Applying to Variety for help is straightforward. You can submit an application at any time by sending us:

Your completed application form which can be downloaded below
A letter of support from a relevant healthcare professional (such as an occupational therapist or physiotherapist)
A quote for the equipment you are applying for from the supplier that you wish to use (sometimes we need two quotes but we'll let you know if that applies to your application)
For sports wheelchairs only, a letter of support from your sports club outlining the applicant's commitment to the sport and their regular participation.

Your application will be passed on to one of our volunteers to be assessed. Each application is assessed on its own merit and will take into account your financial situation, the frequency with which the wheelchair will be used, how any maintenance costs will be covered, how safely the wheelchair will be stored and the impact that it will have on the child or young person. We never make cash grants, but will liaise directly with your supplier to arrange delivery straight to your door.
How will the COVID-19 pandemic affect my application?

Due to the Covid-19 pandemic, there may be some delay with regard to funding grants and applications for grants are likely to be delayed.

You can still submit your application as usual, and we will respond as quickly as we can to confirm we have received it. If you have already submitted an application, or had one approved recently, your funding may be significantly delayed. In all instances, our grants team will endeavour to keep you informed at every stage and we appreciate your understanding and patience at this time. We are not currently accepting applications from organisations for wheelchair grants. We also have less control over timeframes, making it difficult for us in certain circumstances to team up with other charities to co-fund equipment grants and wheelchairs. We do, of course, welcome contributions from applicants towards the equipment where possible. This situation will hopefully change soon, so please watch this space for updates.
Get in touch
Got a question? Need to discuss a speculative application? Call our friendly grants team on 0207 428 8100 or email wheelchairs@variety.org.uk