A Sunshine Coach is a passport to a world of new experiences
Our coaches give youngsters the opportunity to explore places they would otherwise never visit, experience different learning environments and gain life skills outside of the classroom – all while supporting their physical, social and language development.
We really appreciate the donation of our new school minibuses. They will provide our pupils with opportunities to travel beyond their immediate community and enjoy experiences that others may take for granted.

Lorraine Slee, Head Teacher at Red Gates School and Willow Tree Nursery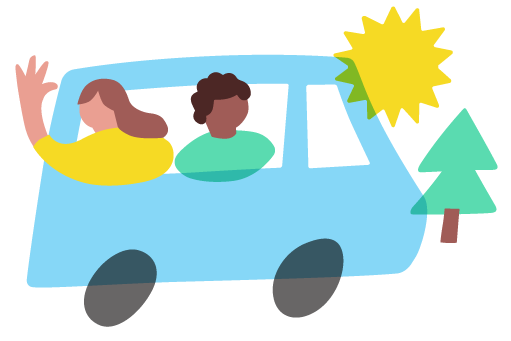 What are Sunshine Coaches for?

Having their own coach enables schools and organisations to plan recreational or educational trips with less hassle and more confidence, knowing pupils will be travelling in safety and comfort.
Sunshine Coaches form mobile classrooms by taking children to Forest Schools. These schools enable outdoor learning, often transforming behaviour and acting as a natural therapy.
For children with ASD, the coaches offer a safe and stable travelling environment that a child can come to trust, thereby reducing the frequency of sensory meltdowns.
For children living in poverty, the coaches provide access to trips and experiences the children would otherwise miss out on.
In children's hospice settings, they provide families without transport the means to come and visit their sick children as well as safe transport for children receiving palliative care.
For a teenager who is the only wheelchair user in their class, a coach enables them to travel with their friends, rather than alone in a separate wheelchair-accessible taxi.
Sunshine Coaches are designed for regular use; most of them are used five days a week or more and they have an average life of ten to fifteen years.
Can Sunshine Coaches be customised to our needs?

Each Sunshine Coach is unique and serves the needs of the school or organisation to which it belongs. Each Sunshine Coach has its own story to tell.

There are four types of Sunshine Coach to choose from, depending on your needs. If you require a vehicle with a rear tail lift, you can choose between a 13 and a 17-seater coach. For vehicles without a tail lift, the coaches come with 14 or 17 seats.

All vehicles come with flexible seating options which means that your Sunshine Coach can continue to meet your changing needs.
How are Sunshine Coaches funded?

Each Sunshine Coach is a team fundraising effort involving you, the school or organisation that will be the owners of the vehicle, Variety and our donors. The beneficiary school or organisation generally funds around 35% of the cost of their coach through a one-off donation, while Variety's donors subsidise the remaining 65%.

Often, beneficiaries raise money for their donation through PTA activities, sponsored events or local grant funders. Our team can offer help and advice on how to get your donation together. You don't need to have it in place before you apply for a coach.
How do we apply for a Sunshine Coach?

You can apply for a Sunshine Coach at any time simply by completing the form below and emailing it to coaches@variety.org.uk
Where can we find more information about Sunshine Coaches?

You can find more information about the vehicles themselves along with our FAQ's in the documents below.
Get in touch
Got a question? Need to discuss a speculative application? Call our friendly Sunshine Coach Programme Manager on 020 7428 8111 or email coaches@variety.org.uk