3rd November 2023
Alex Explores the World with a New Variety Funded Wheelchair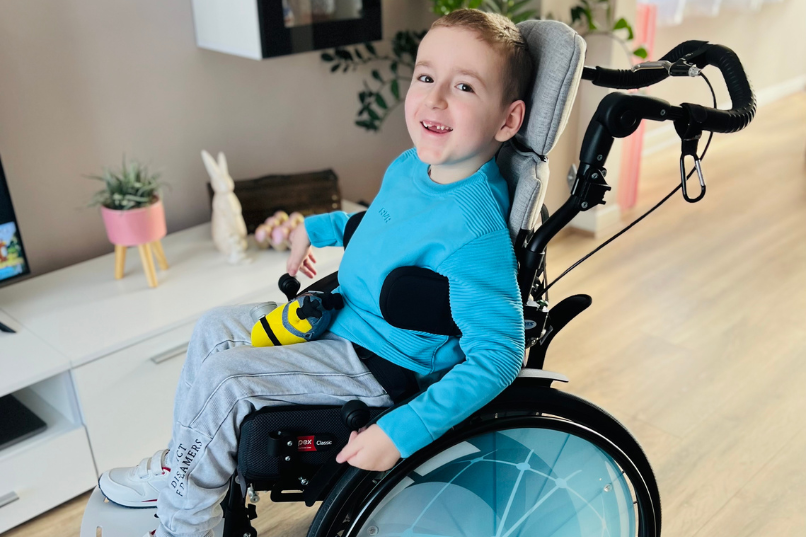 Alex lives with his Mum, Martina, and his Dad, Adrian. He is a happy and bright young boy, who enjoys playing games on the iPad, watching the television, playing with play doh, and collecting old mobile phones. Alex also loves travelling, whether he's going on day trips around the UK or visiting family in Slovakia.
Alex attends a mainstream primary school where he is cared for by two dedicated teaching assistants. He loves school, especially science, music, and IT. However, Alex does not enjoy maths and when his mum asks him "What's two times two?", he will respond with "Ketchup", followed by joyous laughter.
When he was around seven-months-old, Alex's family started to notice that he wasn't reaching his milestones: he couldn't sit on his own, couldn't crawl, and he had a hand tremor. After months of testing, Alex was diagnosed with Spinal Muscular Atrophy, type 2, which means his muscles are weakened and he has difficulty with movement. Martina said:
We cried for days, for months, and we just couldn't stop crying. But we decided to give him everything he needs to care for him the best we can to create the best life he can live and enjoy.
At around two-years-old, Alex was also diagnosed with Autism Spectrum Disorder (ASD). Despite the difficulty of the diagnoses, Alex and his family have gone on to thrive. Alex taught himself to read at three-years-old and is now excelling in school.
While Alex did have a powered wheelchair that he could control well, he is not fully aware of danger so it was not possible for him to always move around safely. The family also found that many public spaces were inaccessible to Alex in his powered chair as they were too small to accommodate the larger chair.
Martina started contacting charities for help, which led her to Variety, the Children's Charity. Martina said:
When we received a phone call from lovely Audrey, we couldn't believe our ears. They agreed to help us fund the rest of the amount we needed to purchase our dream wheelchair!

Our lives changed for the better. We love to travel around this beautiful country, and we also travelled abroad through Europe knowing Alex was sitting comfortably in the wheelchair. We can tilt the chair back when he falls asleep, he can play while he sits as he has got the play tray attached, and we can also use the terrain wheels to go through the mud, which is big fun!
The lightweight wheelchair has made life easier for Alex and his family. After years of lifting and carrying Alex, Martina suffers from backpain, so the lightweight design is essential for her to be able to push him around.
Since receiving the new wheelchair, the family have visited Martina's home country of Slovakia, driving for two days to visit the family. Alex and his family had a wonderful time, with his new chair allowing him to access new places that would otherwise be inaccessible to him.
Alex is looking forward to many more adventures in his new wheelchair!