16th November 2012
Variety Wessex 'Show On The Pier'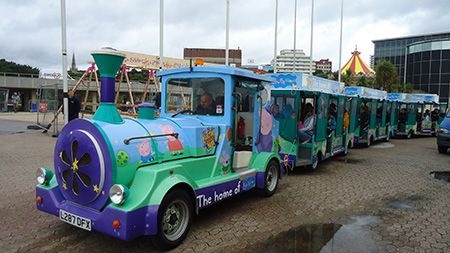 A huge thank you went out to all who helped to make this the most fabulous day for all the children who came along to the annual Variety at Work 'Show on the Pier'. The day began when the Sunshine Coaches arrived on the Pier Approach from 15 schools from across the region.
The Seafront Officers headed up by Noel Oliver were there to greet everybody and arrange parking of all the coaches. The Officers then brought out the Noddy Train to take some of the children for a ride along the promenade, with chuckles from the children all the way.
Four staff members from 4Com very kindly offered their help for the day (Rio, James, Emma and Emily), several Seafront Officers and of course some members of the Variety Committee were also there to help and support the schools.
The children then lined up to go on the carousel, swings and bungee jump, all given free of any charges by Stanley and Debbie Reeves owners of S&D Leisure. Ronnie Diamond Face Painter's were situated in the Pier Cafe where the children could have their faces painted. The actual show in the pier theatre began at 12.00 noon with the children's all time favourite TV star Chris Jarvis hosting it.
Magician Jamie Jambo entertained the children for forty minutes in the first half and then the cast from Zambezi, which is showing in the Pier Theatre on Friday and Saturday this coming weekend and entertained everybody present with fabulous African music and dancing.
After being invited many children got up onto the stage and danced with them. Stanley and Debbie Reeves very kindly donated ice cream for all the adults and children present and the Pier Complex staff donated sticks of rock for them to go home with.
Our personal thanks to all those who made this day a day to remember for all the sick, disabled and disadvantaged children present, especially Ian Goode and the management of the Pier Theatre Complex 'Openwide Entertainment' who very kindly donated the use of the Pier Theatre, restaurant and staff for this occasion with their compliments.