19th December 2016
Variety Sunshine Coach Presented to Grangewood School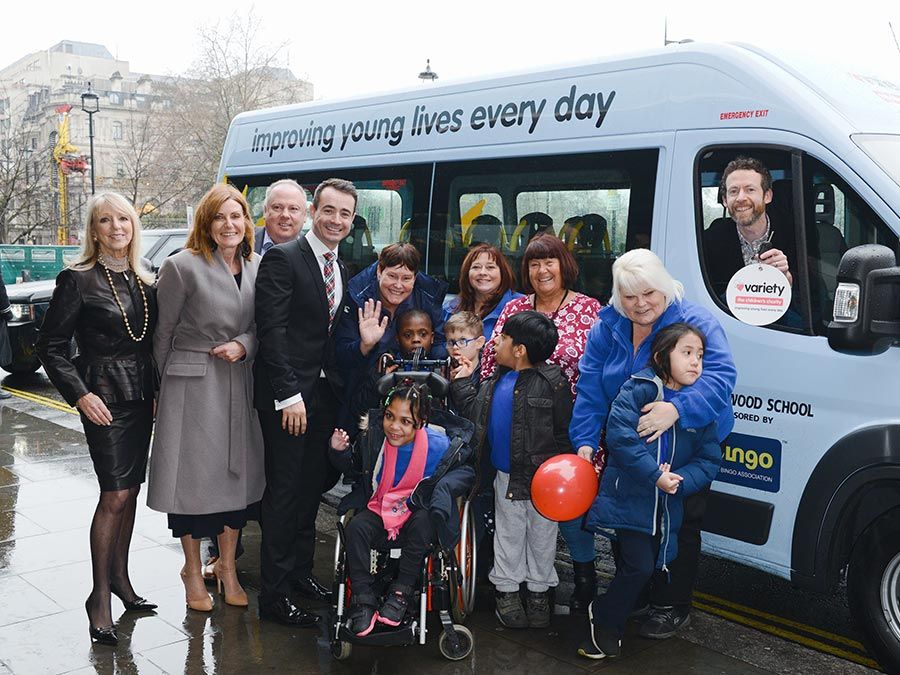 Presenting the Variety Sunshine Coach to the beaming school children from Grangewood School in Harrow was Holby City actor, Joe McFadden and Mark Jepp, Managing Director of Majestic Bingo. The coach has been donated at Variety's annual Christmas Lunch at the London Hilton Hotel on Park Lane.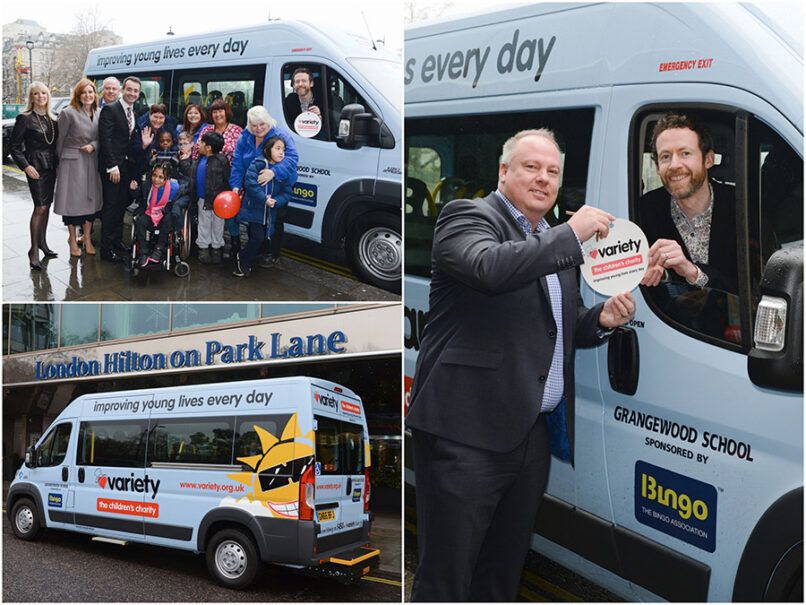 The specially designed vehicle, which has been sponsored by The Bingo Association, will offer the children the opportunity to experience the outside world in a safe and secure way, through a number of trips and activities.
Grangewood School is a special primary school, based in Eastcote, Middlesex that provides education for 103 children with severe learning difficulties and physical and complex needs, including Autism Spectrum Disorder, Downs Syndrome and hearing and visual impairments.
There are also 20 pupils who must always travel in their wheelchairs.
The new coach will replace their 16 year-old coach that has finally reached the end of its useful life and will be used every day to take the students in small groups on regular trips and outings in the local community and educational visits further afield. The coach provision is a lifeline for the inclusion of children and young people with mobility difficulties, who are at present excluded from wider social and educational opportunities, thus helping them develop confidence in a variety of environments, improving their well-being and their social competences.
The brand new Sunshine Coach is a result of joint fundraising efforts between Grangewood School and The Bingo Association. To date, The Bingo Association has raised over £500,000 for the charity and are halfway to their target of raising £1 million to help disabled and disadvantaged children across the UK.
Miles Baron, Chief Executive of The Bingo Association says:
"More than 400 bingo clubs across the UK made this very worthy donation of a sunshine bus possible and so I must thank the staff and bingo players for their support. We're very excited to continue our fundraising over the next few years and hope to reach our target of £1 million to help more children get the most out of their childhood and reach their unique potential."
Karen Clark Head of Grangewood School said:
"We would like to extend our sincere gratitude to the Bingo Association who generously donated the Variety Sunshine Coach. We are very grateful to all those involved for their generosity and support."