25th September 2014
Variety Presents A Sunshine Coach To The Pedro Club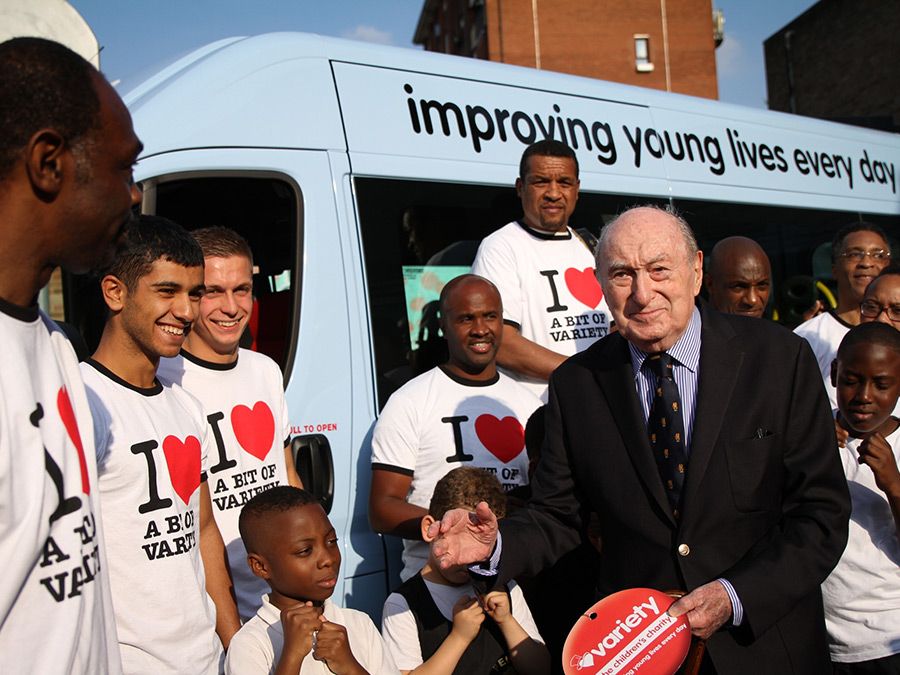 Variety presented a Sunshine Coach to The Pedro Club in Clapton, London, in tribute to Jarvis Astaire OBE. The Pedro Club in Hackney is one of London's oldest youth clubs and home of The Pedro Amateur Boxing Club, and the vehicle will be used to transport the Club's children to competitions and boxing fixtures.
The Sunshine Coach was donated directly by Variety to honour Jarvis Astaire OBE for his long-standing work helping sick, disabled and disadvantaged children through the Charity, as well as his influential career within the boxing world.
The funds for the vehicle were raised at an event in 2013 to honour Astaire with the first-ever Variety Life Presidency award, where the British Boxing Board of Control Ltd said: " His career in boxing goes back to the 1950s, when he managed Champions such as Sammy McCarthy and Evan Armstrong. Not only did he play a direct role as a manager, international agent and promoter, but he also pioneered the broadcast of great contests overseas, such as Muhammad Ali vs. Joe Frazier and Sugar Ray Leonard vs. Roberto Durán."
Born on 6th October 1923, in the East End of London, Jarvis Astaire started his interest in boxing, as a young man in his 20s, by promoting charity boxing matches. He progressed to becoming one of the most influential figures in British professional boxing and was a pioneer of Viewsport, which showed world title fights in packed cinemas across the country. Astaire was also a co-promoter of Muhammad Ali's European title fights.
James Cook MBE, for The Pedro Club, commented:
"We are truly thankful for the donation of the Sunshine Coach from Variety in the name of Jarvis Astaire OBE. Our boxing club caters for 350 young people in the heartland of Hackney and a new coach will mean the world to the young people, in terms of expanding opportunities to compete and train."
Trevor Green, Variety's Chief Barker said:
"We are very proud to be donating this vehicle in tribute to such a deserved long-term supporter as Jarvis. Variety's Sunshine Coaches ensure that children can interact with the world around them and experience a fun, entertaining and educational environment, whilst ensuring they are transported as safely as possible. With the backing of people like Jarvis, Variety can continue to highlight the fact that being sick, disabled or disadvantaged need not be a barrier to getting the most out of life."