25th August 2021
Variety Paralympic beneficiaries win five medals at Tokyo 2020
Press releases
Sporting challenges
The Tokyo 2020 Paralympic Games shone a spotlight on the talent, skill and ambition of young disabled people. We were incredibly proud to see nine of our Variety beneficiaries participating in the Games, and bringing home an astonishing haul of five medals between them. Helping children and young people reach their dreams, through being given the right equipment as early as possible, is a huge part of what drives us at Variety.
Please note that, due to limited funds, Variety currently only provides sports wheelchairs in exceptional circumstances, such as if an applicant has a track record of commitment and involvement in a sport with the potential to participate in national or international competitions.
Karé Adenegan – para-athletics
Karé Adenegan competing in the World Para Athletics Championships in London in 2017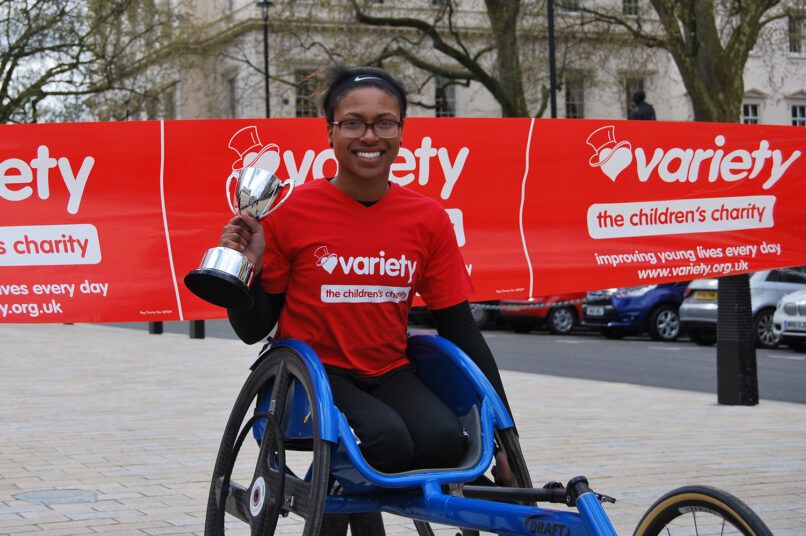 Karé was made a Variety Young Ambassador in 2014
At school, 20-year-old Karé Adenegan, from Coventry, found herself excluded from sports because of her cerebral palsy. However, watching the 2012 Paralympic Games in London made her realise that sport was open to her and she joined a wheelchair academy. Karé received a racing wheelchair from Variety in 2014 and was made a Variety Young Ambassador soon afterwards. Since then she has become one of the fastest wheelchair sprinters in the world.
Karé won two silver medals Tokyo 2020 Paralympic Games in the Women's 100m – T34 and 800m – T34 events. She also represented Britain at the Paralympics in Rio in 2016, winning silver and bronze medals.
Her most notable sporting achievements include:
Winning 100m silver and bronze in the 400m and 800m at the 2017 World Championships in London
Claiming her first major international gold medal in 2018 when she won 100m gold at the European Championships in Berlin
Being named as the BBC Young Sports Personality of the year in 2018
Claiming two silver medals in the T34 100m and 800m events at the 2019 World Para Athletics Championships
Winning two silver medals in the Women's 100m T34 and the Women's 800m T34 events at the Tokyo 2020 Paralympic Games.
Her father Bunmi told us: "Variety was instrumental in getting Karé to where she is now. She has never forgotten that Variety provided her with her first set of 'quads' [a sports wheelchair with two back wheels], and the charity continues to be in our hearts. It's not just the aspiring young sporting champions that benefit, Variety does a wonderful job of making life more active for children and young people of all abilities."
Joy Haizelden – wheelchair basketball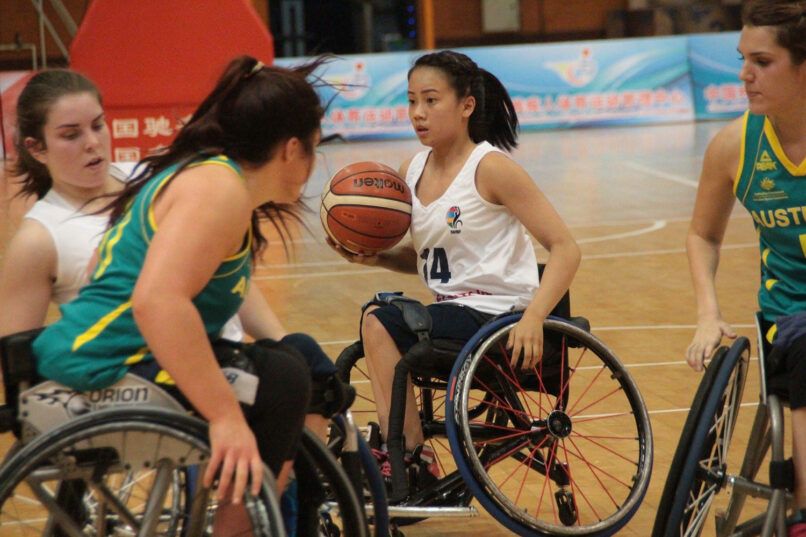 Joy Haizelden representing Britain in the 2019 European Wheelchair Basketball Championships in Rotterdam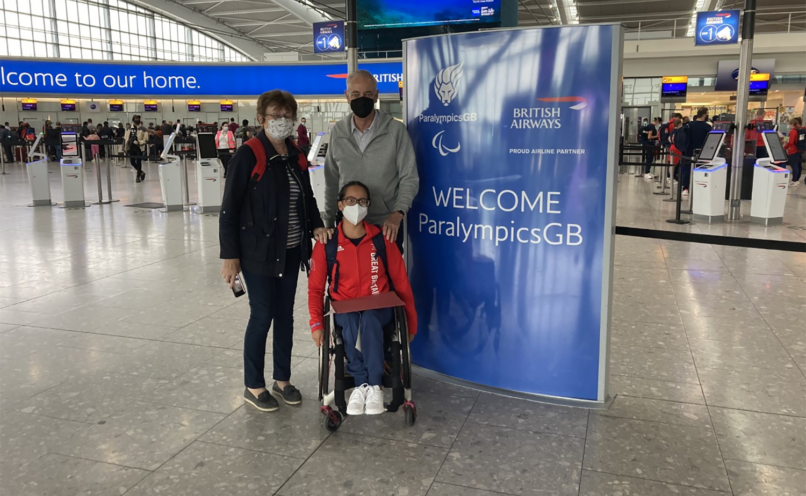 Joy is pictured with her parents at her airport send-off ahead of the Tokyo 2020 Paralympic Games
Joy Haizelden, a twenty-two-year-old from Southampton, was born with spina bifida. At the age of six, she was adopted from China and brought to the UK. When a friend suggested taking part in a wheelchair basketball session, she instantly fell in love with the sport and has not looked back. Variety was able to fund both a sports wheelchair in 2012 and a lighter daytime chair in 2014 for Joy, marking the beginning of a career that has already included several international medal successes.
At the 2016 Rio Games Joy made her Paralympics debut. She went on to represent Britain at Tokyo 2020 as a member of the GB Women's Wheelchair Basketball Team that beat Australia and Spain.
Her list of sporting achievements includes the following:
Winning a silver medal in the 2019 European Championships in Rotterdam
Winning a bronze medal in the 2019 U25 World Championships, Thailand
Winning a silver medal in the 2018World Championships in Hamburg
Winning a gold medal in the 2018 U24 European Championships
Winning a bronze medal in the 2017 European Championships in Tenerife
Winning a gold medal in the 2016 U24 European Championships
Claiming 4th place in the 2016 Paralympic Games in Rio
Winning a bronze medal in the 2015 European Championships in Worcester
Winning a gold medal in the 2015 U25 World Championships in Beijing
Claiming 5th place in the 2014 World Championships in Toronto
Joy's father, Jim, told us: "Seeing Joy in Tokyo is a wonderful sight for us. She has worked so hard and for so long to prepare for the Paralympics. Playing sport at school was difficult for Joy, so when she discovered wheelchair basketball it was a life-changer for her. We have a lot to thank Variety for in supporting Joy when she was just starting out. They provided funding for a new lighter, more efficient day chair, which made coping with day-to-day life a lot better. When she started playing wheelchair basketball and it became clear she was very talented, they provided funding towards her own made-to-measure chair rather than the heavier, loaned club chair she was using. This really helped her and gave her the confidence she needed to improve her skills and ability, which led to her being invited to a GB development camp – and the rest is history!"
Lewis Edwards – wheelchair basketball
Lewis Edwards during the 2017 Men's U23 World Wheelchair Basketball Championship in Toronto
Lewis Edwards, who has neurogenic arthrogryposis multiplex congenital, discovered he loved the intensity and team aspect of wheelchair basketball when he was introduced to the game at 14. After Variety funded a sports wheelchair for him in 2016, his rise to wheelchair basketball champion fame was meteoric, with a number of key championships wins along the way. The 23-year-old from Littlehampton won a bronze medal at Tokyo 2020 when his team beat Spain in the Men's Bronze Medal Match.
Highlights of his sporting career include:
Playing as part of the 2017 Men's U23 World Championship winning side in Toronto, which took gold. The under-23 team became the first-ever Great British wheelchair basketball side to medal at a World Championships.
Competing at the Tokyo 2020 Paralympic Games as part of the ParalympicsGB team, which won a bronze medal.
Lewis' father, John Edwards, told us: "The first sports chair that you helped Lewis with was the first step towards him getting as far as he has".
James (Jim) Palmer – wheelchair basketball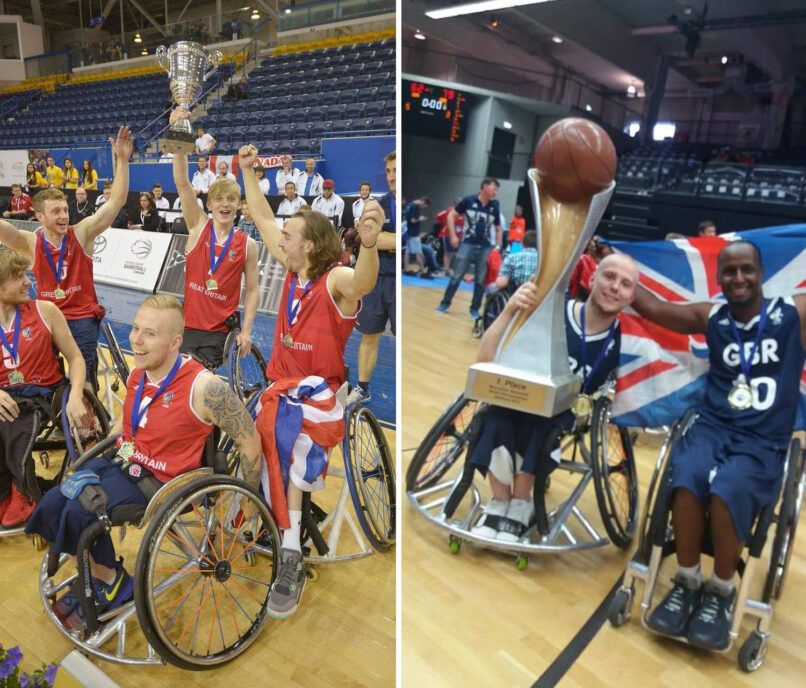 James is pictured here (left) as part of the Great Britain team as they were crowned Men's U23 World Champions in 2017
Twenty-four-year-old James (Jim) Palmer from Essex first took up wheelchair basketball after being introduced to the sport at a wheelchair skills event. He joined the Essex Outlaws Basketball Club at the age of 10. Just two years later, Jim was invited to a GB development camp where his ambition and passion for the sport was nurtured. We're so proud to have made a contribution towards helping Jim realise his sporting dreams.
His career highlights include:
Playing as part of the GB U23 Squad who won the historic World Championship Title in June 2017 in Hamburg
Being awarded the Bill McGowran Trophy at the 2018 Sports Journalists' Association's British Sports Awards as a member of Great Britain's wheelchair basketball team.
Competing at the Tokyo 2020 Paralympic Games as part of the ParalympicsGB team, which won a bronze medal.
His mother, Sharon, told us: "Jim was part of the team that won the World Championships in Hamburg. It's the first time that Great Britain has won that competition, so it was a very proud moment in the history of British men's wheelchair basketball. The funding provided by Variety has helped Jim on his journey to the Tokyo Paralympics, to hopefully win a Gold medal. We are very grateful for the help provided by Variety, as it has made such a difference to Jim's life."
Bethany (Beth) Moulam – boccia
York-based Beth Moulam has been playing boccia (a precision, ball-based sport) since the age of 10. The 27-year-old, who has cerebral palsy as well as a speech and hearing impairment, was inspired to enter the sport competitively by watching para-athlete Caroline Baird – who also has cerebral palsy – win two gold medals at the Sydney 2000 Paralympic Games. Due to her condition, Beth's ability to grip the ball weakened over time, so she recently began playing as a BC3 player – and therefore with a ramp assistant. In 2020, Beth was invited onto UK Sport's World Class Programme, and her dreams of competing at a Paralympics level began to materialise.
As part of the GB Boccia Squad, Beth participated in teams matches at Tokyo 2020, finishing on a high note with a win over France.
Beth says: "The wheelchair Variety funded for me in 2008 was a great chair – it gave me the confidence to really get into boccia, and many other things too. Being completely independent is so important in terms of experimenting with what sport suits you best and how you can access it. Along my boccia journey, having the right equipment at the right time made it possible to challenge myself and improve my game. Thank you Variety."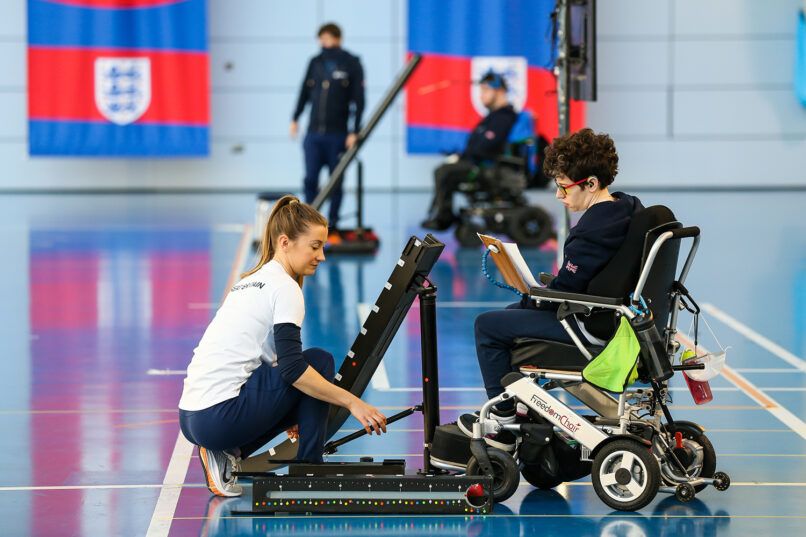 Beth Moulam with her ramp assistant, Christie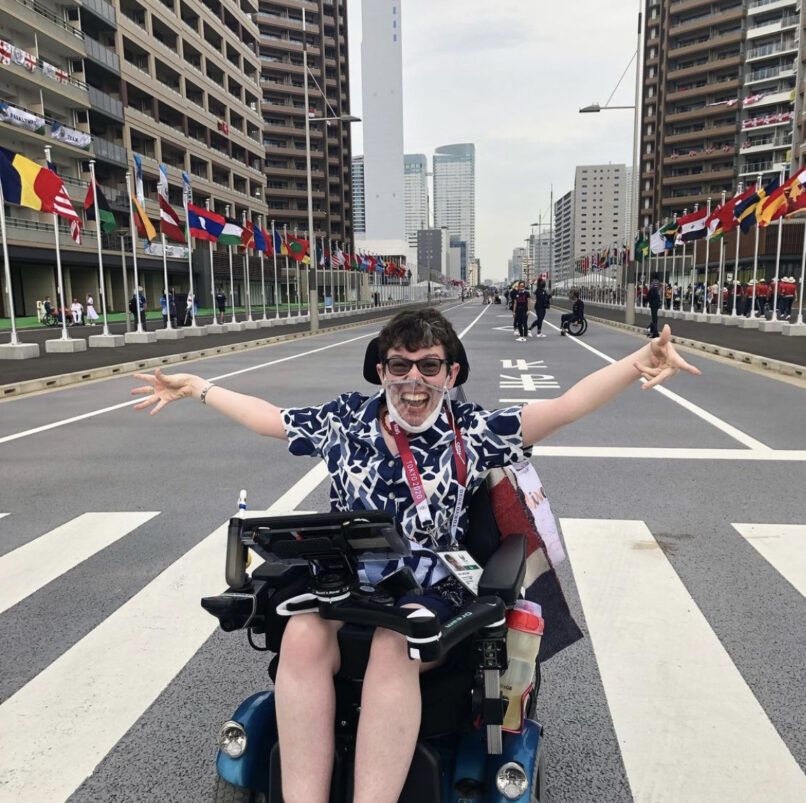 Beth Moulam in Tokyo in 2021, just before the Paralympic Games opening ceremony
For every young disabled athlete making headlines through their extraordinary achievement, there are thousands of disabled children and young people waiting for the right equipment – and simply the chance to have a full, active childhood and make the most of their lives. Variety exists to give them the good start everyone needs, helping them gain mobility, get out and about in the community, communicate, learn, play, achieve more independence and develop greater self-esteem.
Can you help us change young lives?