3rd December 2015
Variety Launches 2016 Hunger Games Gold Heart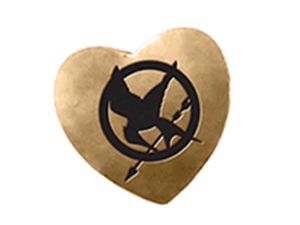 Variety is excited to announce the launch of the 2016 Hunger Games Gold Heart, in conjunction with the release of the latest blockbuster film, Hunger Games: The Mockingjay Part 2.
Thanks to The Hunger Games saga, people in all corners of the world are talking about the revolutionary Katniss Everdeen, and her ever symbolic Mockingjay pin. Variety is extremely proud to collaborate with such a fantastic film, taking on the phrase that "One good deed can change the world", and indeed it can; purchasing this limited edition Mockingjay Gold Heart, will help support sick, disabled, and disadvantaged children across the UK.
The Hunger Games films, based on the three adventure novels written by American author Suzanne Collins, follow the story of the young Katniss Everdeen and Peeta Melark, as they fight for equality and unity across the 13 segregated districts of their nation, "Panem".
To purchase your limited edition 2016 Hunger Games Variety Gold Heart, please click here. Hearts are also available at ODEON cinemas, subject to availability.