10th April 2021
Variety celebrates the life of HRH Prince Philip, The Duke of Edinburgh, a beloved founder member and lifelong patron
Variety is immensely saddened by the passing of our founder member and patron, HRH Prince Philip, The Duke of Edinburgh, whose support has been so important throughout our history. At the same time, we celebrate his huge contribution to our cause, and to our nation.
The Duke was a lifelong advocate and champion for young people, and was initimately associated with Variety in the UK since its very beginnings. Through his international contacts in the world of show business, he played a crucial role in helping to bring the charity from America to this country, which resulted in a UK tent being established in 1949. With his unflagging commitment, energy and passion for our work with disabled and disadvantaged children, his patronage over the next seven decades had an enormous impact on Variety.
HRH Prince Philip took great delight in attending or officiating at many Variety events and activities, sometimes even staying all evening. He was an incredibly 'good sport', known for his great sense of fun, for being hugely entertaining company, and for his ability to make everyone around him feel completely at ease. His charm, sharp wit and unfailing good humor always lifted spirits, while his enthusiasm and dedication visibly raised awareness of our cause and inspired an extraordinary level of generosity among our supporters, enabling Variety to flourish and grow from strength to strength. As our patron, he also offered his wisdom, asking knowedgeable questions and offering guidance.
Malcolm Brenner, Variety Trustee and Chief Barker, 2011, commented: "Prince Philip, who was instrumental in bringing our charity to Great Britain in 1949 and remained our Gold Card Life Member throughout the years, will be sadly missed. His unswerving and unconditional support over the years has helped us raise much-needed funds to improve the lives of sick, disabled, and disadvantaged children. His loss will be sorely felt by all who are associated with Variety, and of course by the children who we care for. With the help of HRH, we made their lives purposeful and happy, and we will continue to do so. With deepest respect we bid him farewell and extend our deepest sympathy to Her Majesty the Queen and the entire Royal Household."
Prince Philip's seven-decade-long association with Variety in pictures
1955
The Duke shares a joke with comedy conjuror Tommy Cooper and Jimmy Carreras at a tribute lunch at the Savoy Hotel, London. At centre left is British film executive C.J. Latta, founder of the British Variety tent, and at centre right is British film producer James Carreras. Watch a YouTube video covering the occasion here.
1959
Together with then Chief Barker, Billy Butlin, and Earl Mountbatten, The Duke lunched with a host of stars and prominent people from the entertainment world, including Sir Kenneth More, at a Variety 10th Anniversary lunch in 1959 at the Savoy Hotel in London. Watch a YouTube video capturing highlights of the event here.
1971

On behalf of Variety, The Duke officially opened a sports club in Moss Side, Manchester in 1971.
1972
The Duke admires one of two Sunshine Coaches presented by Irish singer and entertainer, Danny La Rue, in 1972 at a Variety lunch at The Dorchester Hotel, London. In the foreground is then Chief Barker, Ben Rosenfeld.
1977
HRH lends a hand at the 50th Anniversary celebration of the International Variety Club, an event held at the Sporting Casino, Monte Carlo, in 1977. Prince Rainier and Princess Grace of Monaco were also guests.
His Serene Highness Prince Rainier of Monaco receives a Variety Club award from the Duke at the 50th Anniversary celebration of the International Variety Club in Monte Carlo in 1977.
1983
Boxers Frank Bruno (left) and Floyd Patterson (centre) have an animated chat with The Duke, whilst attending the National Sponsored Sports Luncheon organised by Variety at the Grosvenor House Hotel, London in 1983.
1985
A delighted Sister Rosalie of St George's Cathedral, Southwark, receives the keys for a new Variety Sunshine Coach during a Variety lunch held at London's Inn on the Park Hotel in 1985.
During the same Variety lunch at London's Inn on the Park Hotel in 1985, The Duke enjoys a joke with comedian Frank Carson (right). At the centre is then Chief Barker, John Ratcliffe.
1991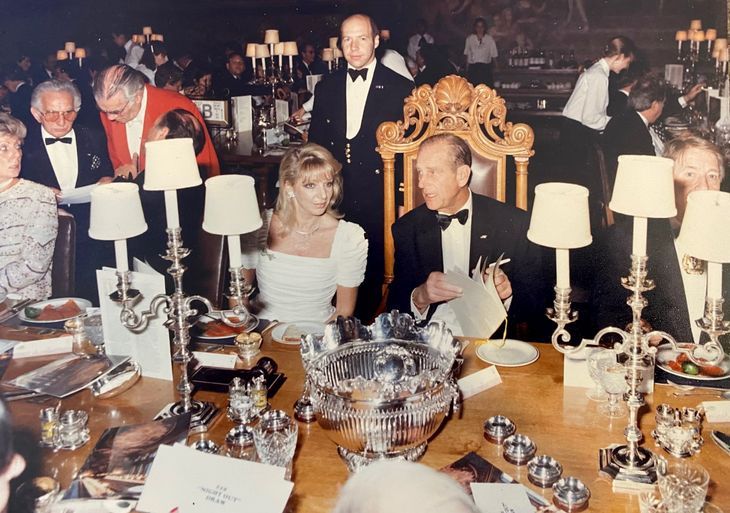 After travelling with The Duke on a small boat to Greenwich, Variety trustee (and later Chief Barker) Pamela Sinclair had the honour of escorting The Duke of Edinburgh to a Variety lunch at The Painted Hall in the Old Royal Naval College Greenwich, London. The event took place on the occasion of HRH's 70th birthday in 1991.
2006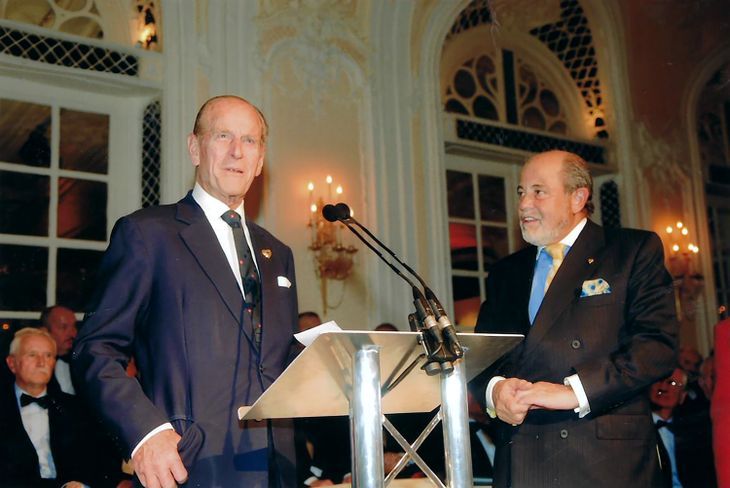 ​HRH thanks Variety for a cheque donated to him for his National Playing Fields Charity at a Variety Rugby Legends Dinner at the Savoy Hotel in London in 2006, while host Ronnie Nathan, then Chief Barker, looks on. The dinner was held to mark The Duke's 85th Birthday. Several Stars of the Rugby Union, and indeed a few of the World Cup winning team, were present.
Chief Barker Ronnie Nathan enjoys a chat with the The Duke at the same Variety Rugby Legends Dinner in 2006.
At the same dinner, Variety trustee Pamela Sinclair introduces her daughter Emma to The Duke. Behind HRH is Variety trustee Neil Sinclair, who was Chief Barker in 1991.
2011
The Duke enjoys meeting guests at a Variety tribute lunch to mark his 90th birthday at Claridge's Hotel, London, in 2011. This turned out to be the last Variety event that he attended. At centre right is Variety's then Chief Barker, Malcolm Brenner, who hosted the event. The lunch was followed by an afternoon of comedy, which HRH enjoyed greatly. The cast included Dame Edna Everage, Al Murray 'The Pub Landlord', Bob 'The Cat' Bevan, MBE, Frank Castle and Bobby Davro.
The Duke's speech at the Variety tribute lunch marking his 90th birthday is warmly received.