29th March 2012
Variety Blackpool Is Back!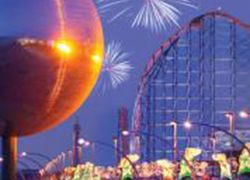 Variety North West is delighted to announce that the Blackpool, Wyre and Fylde area is now a sub-committee of the North West Region.
Fiona Whitworth, Sales Office Manager for the Barceló Blackpool Imperial Hotel, has formed a new and exciting committee of professional people from local media, entertainment, tourism and hospitality sectors, all of whom are dedicated to improving the lives of children in the Blackpool, Wyre and Fylde area.
Fiona and her wonderful committee are in the process of organising an exciting launch event on 29th March 2012, with a press and hospitality party for 200 guests from the business sector. During the event, 200 heart-shaped balloons will be released from the bottom of Blackpool Tower to announce that Variety is now back on the map in Blackpool.
The Blackpool Committee will have monthly meetings at the Imperial Hotel, sponsored by the Barceló hotel chain. The first event this year takes place on 21st September 2012 at the Imperial Hotel: an "Appreciation Awards Dinner for TV and radio impressionist, Jon Culshaw."
Fiona says:
"My fellow committee members and I are extremely proud to be involved in the relaunch of Variety in the Blackpool, Wyre and Fylde area and we would like to thank the North West Region wholeheartedly for this opportunity."
"We are extremely focused on the positive impact that Variety can have on the lives of so many children in the local area and look forward to many wonderful fundraising activities and, most importantly, to reaching out to those in need."