22nd April 2016
Variety Beneficiaries Presented with London Children of Courage Awards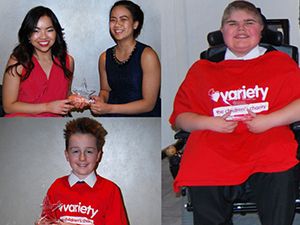 Hosted by St. James' Place Foundation, The London Children of Courage Awards celebrate the amazing achievements of children, young people and their families and carers. Nominations were received from a wide group of leading charities all doing amazing work with children and young people in and around London.
Joy and Miriam Haizelden jointly received the Special Recognition Award (12-18 years). This was to recognise both their spirit and sporting achievements.
Adopted from an orphanage in China at the age of seven by a British couple; Joy and Miriam have been raised as sisters in the UK. Both Joy and Miriam have spinal bifida and rely on a wheelchair for mobility; Variety provided both girls with their wheelchairs in 2014. The sisters live very active lives and since discovering wheelchair basketball in 2011 have taken part in tournaments all over the world. Joy who was voted 2013 Young Female Player of the year is on course to represent Great Britain in Rio in 2016 where she hopes to achieve her dream of winning a Paralympic medal. Miriam is currently studying at the Fine Art College and won an award for a photograph taken at a wheelchair basketball event.
On receiving the special recognition award Joy and Miriam commented:
We are keen to encourage others to explore the world of wheelchair sports; it's great fun and if you believe in yourself you can go on to great achievements.
Cameron Edmunds received the Fundraiser Award (12-18 years). Cameron has a passion for both animals and art and has been raising funds through his artwork.
16 year old Cameron has Duchene Muscular Dystrophy and uses a wheelchair full-time and needs 24 hour attention. Despite all his challenges, Cameron is keen to be involved in social activities and gain greater independence which can only be achieved with a powered wheelchair. Cameron initiated the fundraising for this by selling his artwork that depicted his love of animals. Cameron was presented with his Dragon Power Chair in 2014 by Variety who completed the funding required. Cameron is now able to spend as much time as he can with the animals at Chessington Zoo where the staff welcome him as one of the team.
On receiving his Award Cameron said:
I am so proud to receive this award and will carry on producing my artwork to raise more funds.
Patrick (PJ) O'Donovan received the Fundraiser Award (0-12 years). PJ as he is known to family and friends has been raising funds for Variety since receiving his wheelchair from the charity.
Twelve year old PJ has hereditary familial spastic paraparesis that results in increased tone, reduced strength and limited range of movement, especially in his legs, making walking extremely difficult. This does not prevent PJ from using sticks to walk as he does not want to be restricted to his wheelchair. PJ is a very active boy with a passion for sports especially wheelchair basketball.
Since receiving his wheelchair from Variety, PJ has been very active in fundraising and raising awareness for Variety. He took part in his first wheelchair race and raised more than £1,000 and has been inspiring and encouraging family and friends to follow in his example. PJ's mum is taking part in the London Marathon on 24th April.
PJ has evolved from being a beneficiary of Variety to an active and enthusiastic supporter who wants to help other children to adopt his 'can do' attitude.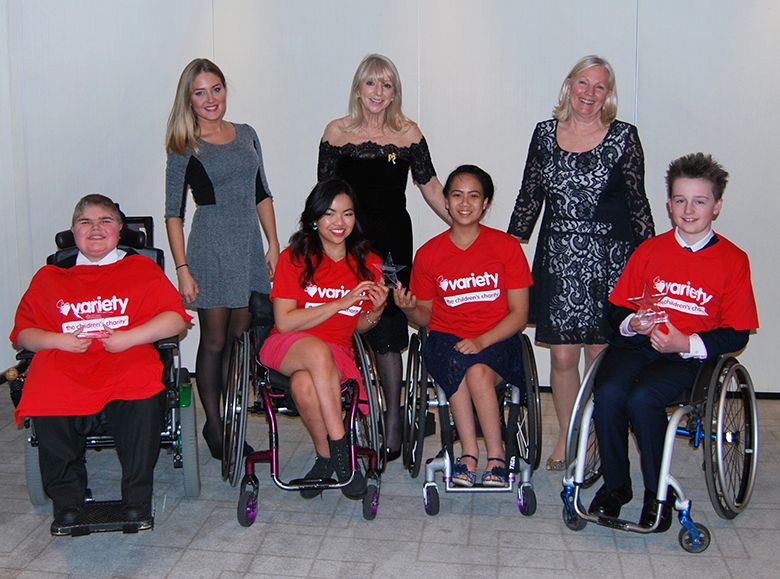 London Children of Courage Awards are supported by The St. James's Place Foundation; a grant-making charity with a difference. The vast majority of funds raised come from fundraising or generous donations made by the Partners and employees of St. James's Place Wealth Management plc, these funds are matched pound for pound by the company.
For more information about the London Children of Courage Awards, please contact Colleen Ettridge on 020 7428 8144 or colleen.ettridge@variety.org.uk