18th March 2014
Variety At The Savoy – A Night To Remember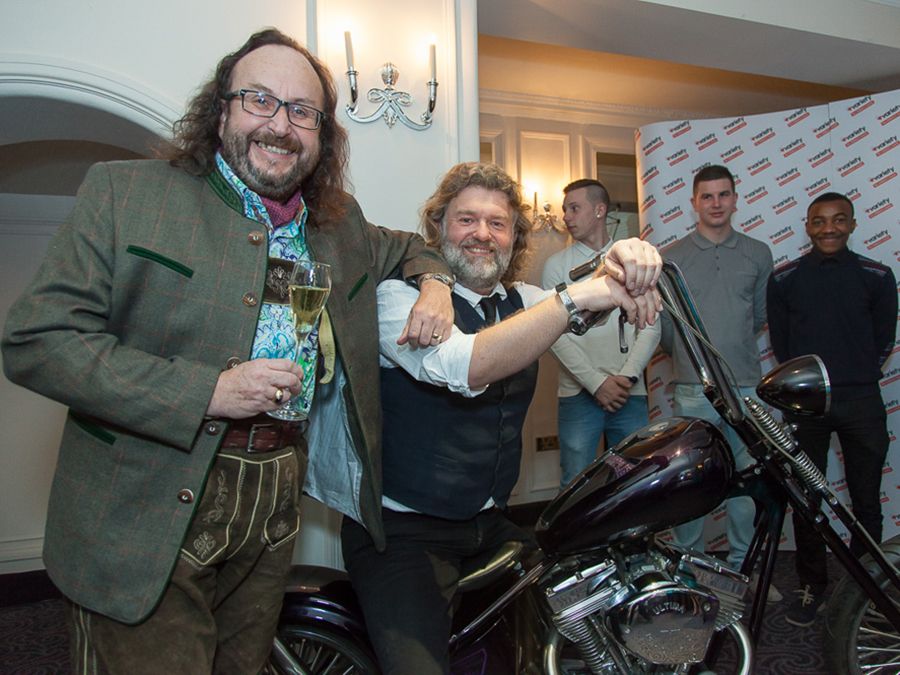 Celebrities and guests celebrated an evening of lavish entertainment, with performances by Laura Wright, Dave Myers, Strictly Come Dancing stars and Leon Ware, raising money for the new Variety Children's Hospital at King's College Hospital, London.
The Savoy, Strand, London, 9th March 2014: Variety, the Children's Charity, hosted a night full of variety and entertainment for over 200 guests which featured a burlesque performance from Elena Gibson and a show-dance from Strictly Come Dancing stars, Kevin Clifton (aka "Kevin from Grimsby") and Karen Hauer. Dave Myers and Si King, The Hairy Bikers, joined in the evening – with Dave performing a reprisal of his 'Moves Like Jagger' dance number with Karen Hauer from the last 'Strictly' television series. Guests enjoyed an impromptu song, 'Jerusalem', from the outstanding Laura Wright, who had just come from Twickenham after singing the national anthem live at the England v. Wales rugby game. The evening's finale was a performance from Leon Ware, US singer and songwriter, famous for his work with Marvin Gaye and Michael Jackson.
Most importantly, over £140,000 was raised in the room, with the help of an exciting live auction presided over by Jonny Gould. The highlights of the auction were a week's stay in the luxurious Opium villa in Mustique and a fabulous money-can't-buy personal tour of the classic car collection belonging to Pink Floyd's drummer, Nick Mason. Entertainment continued with dinner guest, Mark Rogers, a former rugby professional, being auctioned for a spontaneous spar with British heavyweight boxing champion, Derek Williams, for a friendly but brief 30 second round – gloves were provided!
Variety is launching a huge £25 million capital appeal to build a new state-of-the-art children's hospital at King's College Hospital, London, which will enhance its already worldwide reputation in paediatric medicine. This event at The Savoy was the start of the fund-raising for that appeal.
Variety's Chief Barker, Trevor Green, who attended the event, said:
"This major appeal for a new Variety Children's Hospital at King's continues our tradition of more than 60 years of helping children and young people throughout the UK who are sick, disabled or disadvantaged in wide ranging, imaginative and bold ways. It was really heart-warming to see so many people at The Savoy generously and enthusiastically supporting this ambitious project."
David Alexander, of Alexander Associates Group, Chaired the event at The Savoy, the primary purpose of which was to start raising £1.5 million towards a respiratory ward in the new Variety Children's Hospital.
David said:
"I am so proud to Chair such an event and delighted to see the King's capital appeal fundraising off to a great start".
Nick Mason will be busy signing 100 limited edition commemorative bricks for guests that were for sale at the Savoy and that will help Variety raise money for its unique 'Another Brick In The Wall' appeal, as the King's project is now becoming known.
Strictly Come Dancing professional dancer Karen Hauer said:
"I and Kevin, my fiancé and fellow Strictly professional dancer, had an amazing evening supporting Variety who work so hard to support disabled and disadvantaged children throughout the country. We are delighted that we were able to help fundraise for the charity, and it was a pleasure for me to extend that fundraising by dancing, once again, with the fabulous "Hairy Biker" Dave Myers. A great night for a very worthy charity! Thank you for looking after us so well."
"Hairy Biker", Dave Myers, said:
"Si and I had a wonderful night and I was thrilled to don my dancing shoes again with the lovely Karen! We were honoured to be asked and happy to help raise money for such a worthy cause."
Nick Mason said:
"The auction of signed bricks was a brilliant idea, even if rather sadly it wasn't mine! I'm really pleased we were able to raise so much money from so many generous people for such a good cause, and have such a fun night out at the same time. Let's do it again soon….!"
Soprano Laura Wright said:
"I had such a lovely evening at the Savoy, but particularly enjoyed performing, knowing that the money raised was going to such a worthwhile cause, Variety's Children's Hospital at King's."