21st May 2012
Variety And The De Vere Group Celebrate Successful Partnership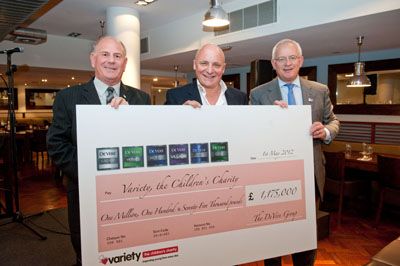 Variety, the Children's Charity, and the De Vere Group celebrated three years of successful fundraising with a cheque presentation at De Vere West One in central London. De Vere Group Chief Executive, Andrew Coppel presented the cheque £1,175,000, to Variety Ambassador and celebrity chef Aldo Zilli, and Variety Chief Barker, Keith Andrews.
The De Vere Group has been a corporate partner and fundraiser for Variety, the Children's Charity, since 2009 and over the three year partnership the De Vere Group and its staff have raised enough money to:
Present 30 Sunshine Coaches to schools and organisations
Provide 20 wheelchairs and trikes for children and young people with a physical disability
Provide grants for 60 individuals, Youth Clubs and organisations for much needed and essential equipment
Give thousands of children memorable Variety at Work days which included sponsorship of Christmas at Gulliver's World in 2010 and 2011
Sponsor the 'Freedom in the Air' initiative which gave children the opportunity to go up in a light aircraft and help 'fly' the plane

Eleven year-old Christian, who has Morquio Syndrome, is one such beneficiary of the fundraising carried out by De Vere. Christian's condition prevents normal bone growth so he stands just 2'8" in height and is dependent on a wheelchair.
The fundraising enabled Variety, the Children's Charity, to provide him with an Active Mustang Wheelchair which allows him to get to and from, and move around, school. Christian's wheelchair gives him the flexibility to reach the same height as the other children, which was an absolute requirement for Christian being given a place at his local school.

Andrew Coppel CBE Chief Executive said:
"We're incredibly proud to have been able to work with, and support, Variety, the Children's Charity, over the past three years as giving back is a key component of our corporate ethos. The De Vere Group wanted to work with a charity that was able to help get results directly into our local communities and, with a reach all over the UK, Variety was the perfect choice."
Keith Andrews, Chief Barker commented:
"We very much appreciate all that De Vere has done for the charity as a corporate partner, and raising over £1million is a fantastic achievement. Their support has been invaluable and has dramatically changed the lives of hundreds of disabled and disadvantaged children all over the UK, through the provision of equipment, Sunshine Coaches and sponsorship to help give these deserving youngsters memorable days out."