30th May 2013
They Did It ! London 10,000!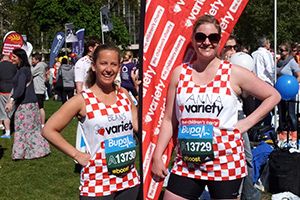 Bank Holiday Monday was a day when large crowds gathered in Green Park in their running vests and supporter t-shirts; a day when Mo Farah won his fifth consecutive BUPA London 10,000 title… and most importantly:
The day when our great runners took to the streets of London on a 10k race in support of Variety, the Children's Charity!
Congratulations runners! You did it! And you were fantastic!
The weather was hot when the clouds didn't hide the sun, so racing was not easy in the heat. The air was filled with pollen from the blooming trees of the late spring day and there were plenty of hayfever sneezes and itchy eyes amongst the runners and cheerers. Luckily the high buildings of the City of London provided a welcoming shadow and temporary coolness from the burning sun for the racers. In the parks people were enjoying picnics and on the scenic streets of central London people were cheering the runners on.
The race took the runners past some of the most famous London sights including Nelson's Column, St. Paul's Cathedral, Millennium Bridge and Big Ben, finishing where they started, just a stone throw away from Buckingham Palace. Each of our runners did tremendously and finished the race in respectable times. Well done!
We saw lovely smiles and enthusiastic spirits before the race and triumphant, joyous smiles at the end of the race.
I was thrilled to be at the scene, seeing the runners off and welcoming them back and very proud of their accomplishment. It was a truly splendid day in central London and I hope everyone had a wonderful time!
THANK YOU to each and every one of you runners who took part in the BUPA 10,000 and supported Variety! I do hope to see you again and welcome you as part of Team Variety again very soon.