12th August 2021
The PROPS Awards 2021 Shortlist Announced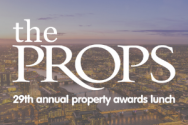 Variety has revealed the shortlist of nominees for the 29th PROPS Awards, the UK's longest-standing property awards, which will take place on Wednesday 13th October at the London Hilton on Park Lane.
As one of the real estate industry's key fundraising events, it is designed to raise funds to purchase wheelchairs for disabled and disadvantaged children and young people throughout the UK. Since its inception in 1992, The PROPS, dedicated to the UK's property industry, has raised over £10.5 million enabling Variety to provide 2,100 custom-built wheelchairs and other essential items to children and young people all around the UK.
The most coveted of all the awards is the "Matt King Lifetime Achievement Award", and this year the honour will go to Nick Leslau, Chairman and Chief Executive of Prestbury Group of companies. This year's Lifetime Achievement Award is dedicated to Matt King OBE, Variety's remarkable and heroic Wheelchair Ambassador, who died very prematurely at the age of 33 earlier this year.
Neil Sinclair, the PROPS Chairman and Chief Executive of Palace Capital plc commented: "Nick is an incredibly talented person and truly one of the great entrepreneurs of our time. It is a real pleasure to honour him at this year's PROPS Awards with "The Matt King Lifetime Achievement Award". With his remarkable career spanning over 40 years, Nick is one of the most successful property professionals in the UK and I am excited to welcome him to The PROPS and to recognise his huge success over the years."
The Awards cover a variety of categories including Deal of the Year, Property Lender of the Year, Development of the Year, Entrepreneur of the Year, and The Most Promising Newcomer of the Year.
Nominees
Anthony Lorenz, The Lorenz Consultancy
Gary Murphy, Allsop
Robert Noel, Hammerson
Robert Orr, Paragon Bank
Frank Pennal, Close Brothers Property Finance

Countryside Properties
Grainger
Greystar Real Estate Partners
Redrow
Sterling Rose Homes
Native Land
PRS REIT
Galliard Homes

Derwent London
Frogmore Real Estate Partners
Great Portland Estates
Prologis
Segro
Helical

Brockton Capital and Oxford Properties for London's Post Building £600m sale
Highbridge Properties and Moorfield Group for letting of 203,000 sq ft to Sage at Cobalt Business Park, Newcastle-upon-Tyne
IM Properties for Pre-letting of 2.94m sq ft to Jaguar Land Rover at Junction 11 of the M42
Marathon Asset Management for £450m hotel portfolio sale to DTGO
Unite Group for the acquisition of Liberty Living
Oxford Properties acquisition of M7 Real Estate
Goldman Sachs and Wellcome sale of iQ Student Accommodation to Blackstone
EQT for the acquisition of Exeter Property Group

Berkshire Hathaway HomeServices
CBRE Group
Colliers International
JLL
Knight Frank
Beauchamp Estates
Savills

Carrick Real Estate
DTRE
Estate Office
Gerald Eve
Savills plc
Michael Elliot
Lewis & Partners

Brockton Capital
CBRE Global Investors
M7 Real Estate
M&G Investments
Patron Capital
Legal & General
Tristan Capital Partners

Avamore Capital
Beaufort Capital
Close Brothers Property Finance
Coutts & Co
Octane Capital
Hilltop Credit Partners
United Trust Bank

Cheyne Capital
DRC Capital
Starz Real Estate
Maslow Capital
Bank Leumi
Octopus Real Estate
Paragon Bank
HSBC
Fortwell Capital

Brunel Building Paddington – Derwent London
The Bright Building, Manchester Science Park – Bruntwood
The Television Centre, White City – Stanhope
Hudson Quarter, York – Palace Capital plc
Angel Gardens Manchester – Moda Living & Caddick Developments
Embassy Gardens, Nine Elms – Ballymore

Johnny Caddick, Caddick Developments
Deirdre Foley, D2 Private
Miheer Mehta, Sterling Rose Homes
Mark Quinn, Quinn Estates
Gary Sacks, City & Docklands
Ric Lewis, Tristan Capital Partners
Emily Bohill, Bohill Partners
Richard Croft, M7 Real Estate
Harry Hyman, Primary Health Properties

Joseph Dunner, Ben Ditkovsky, BYM Residential
Jacob Loftus, General Projects
Guy Horne and David Searle, HSPG
Will Newton, Wirescore
Jordan McBriar, Adapt Finance

BBS Capital
DP9
DWF
Howard Kennedy
Teacher Stern
Fieldfisher
Hollis

BidX1
HubbleHQ
LiveInMyWorld
MRI Software
VTS
Spec
Hollis

The PROPS Awards are sponsored by: