28th July 2014
The Duke of Edinburgh's Award at Kirklees get their Gold Reward!
On 22nd July The Duke of Edinburgh's Award at Kirklees in Mirfield, Yorkshire, received the 12th Sunshine Coach funded by Pieroth & Romanet Wines.
The DoE Project provides young people with an enjoyable, challenging and rewarding programme of personal development of the highest quality and the widest reach. Anyone from 14 to 25 can take part, regardless of background or ability. For some young people, DoE is all about making friends, for others it may be the only form of positive recognition they will ever receive, and may prove a decisive turning point in their lives.
Mirfield DoE makes the programme available to many more young people, particularly those disadvantaged by poverty or disability. The young people involved at Mirfield have a variety of disabilities including learning & physical disabilities, are partially sighted and are visually and hearing impaired.
The coach will take young people to regular weekly clubs and projects and all manner of trips and residential outings.
Manager Denise Bedford MBE said:
"The Sunshine Coach will give so many young people the opportunity to discover new places and learn from their experiences whilst having fun with friends. Thank you Pieroth and variety so much for making it happen for us"
Len Cohen, Chair of Appeals, Variety Yorkshire said:
"Well this wonderful facility for children with physical and learning difficulties could not have wished for a better day for the coach handover. The sun was blazing down , and with the backdrop of the Calder and Ribble canal , the happy cheering children joined by representatives of Pieroth and Romanet Wines, the coach sponsors, members of Variety, the Children's Charity and the beautiful Miss UK it was just perfect. The coach will now be used to take the hundreds of children who flock to this unique site on trips to sports events to schools, shopping trips, to the coast, and even over to France to engage in their Duke of Edinburgh's Awards"
Mike Haszko, Head of Corporate Fundraising remarked:
"Days like this are what Variety is about. The support of Pieroth & Romanet over many years enables us to provide essential equipment such as the Sunshine Coach to the the DoE at Kirklees. A big thank you to all concerned, especially Pieroth & Romanet, Kirsty and Denise"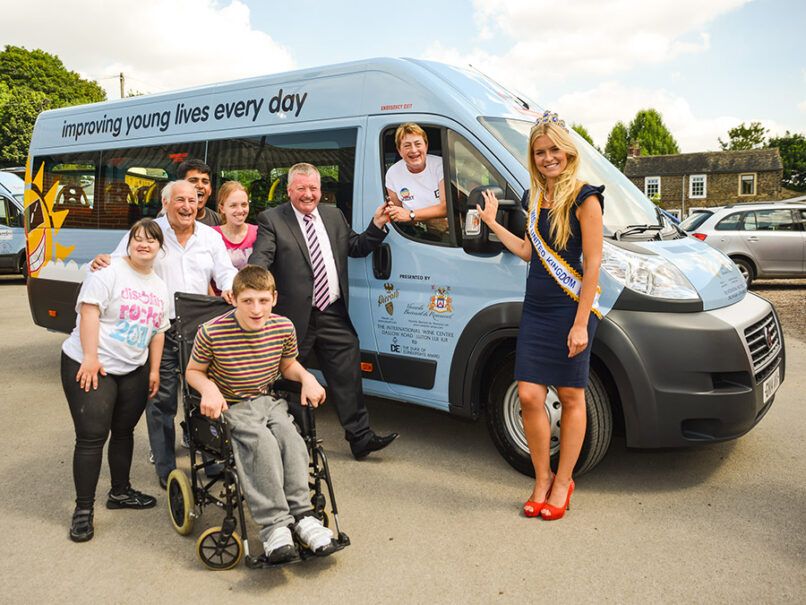 John Dove, Regional Director of Pieroth is joined by some of the young people who will use the coach and Miss United Kingdom as he hands the keys to the coach to Denise Bedford MBE, Manager of the DoE Project.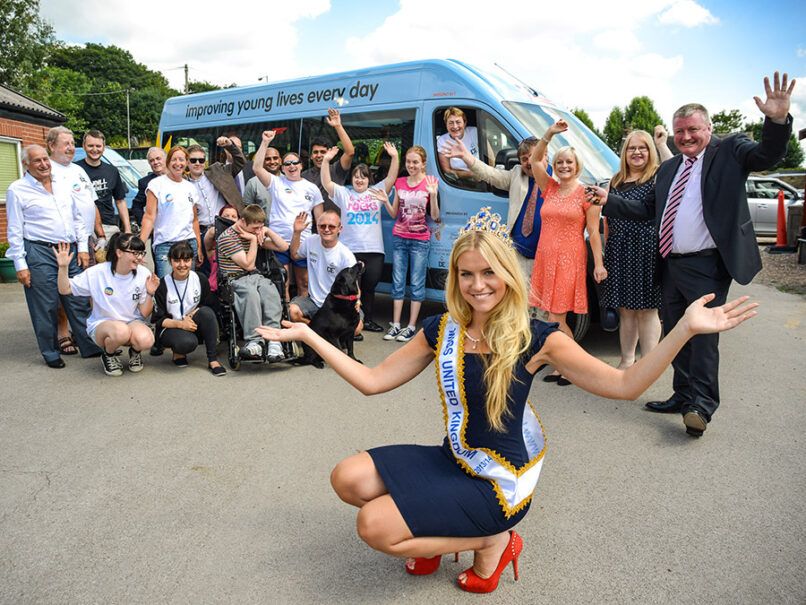 The coach is presented by employees of Pieroth & Romanet including John Dove, Emma Marshall, Peter Watson, Jane Revis, John Page and John Barker with the help of Kirsty Heslewood, Miss United Kingdom and Len Cohen, Chair of Variety's Yorkshire Appeals Committee.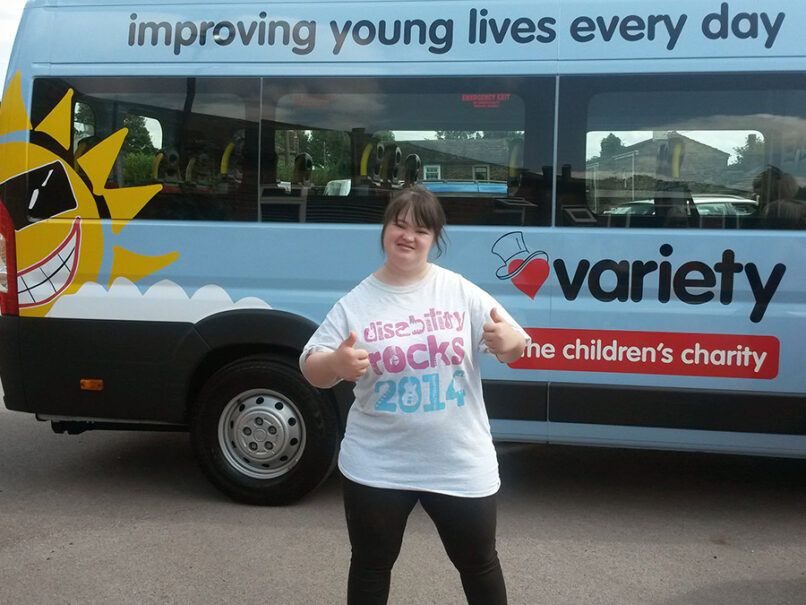 Enthusiastic DoE participant Sarah, tells it like it is!