4th May 2012
May The Fourth Be With You, Variety Supporters!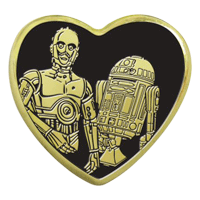 We just couldn't resist jumping on the 'May 4th' and Star Wars pun by sharing a great story from a few months ago when we celebrated the release of our limited edition 2012 Star Wars Gold Heart, and treated over 60 children to a special Star Wars themed party at Planet Hollywood, London.
The children from schools across London whom we work with through our Variety at Work programme, were invited to the legendary movie memorabilia restaurant to enjoy an afternoon of entertainment from a galaxy far, far away.
Our Star Wars Gold Heart features R2D2 and C-3PO and the limited edition pin badge is available online by clicking here and also through the following supporters: Odeon Cinemas, Cineworld Cinemas, www.Jedi-Robe.com – The Star Wars Shop (in stores and online), H Samuel, the Leeds Building Society and DeVere Venues.
The appeal is supported by actor Anthony Daniels, who played C-3PO in all six Star Wars films.
Anthony said:
"In spite of Han Solo's opinion, that golden droid, C-3PO, has been doing his very best to take care of humans in a distant galaxy for the last 35 years. Now I'm delighted to direct his efforts towards helping some younger humans have a better time on our planet."

"I've always wondered if C-3PO had a heart. Well, he does now!"
After a lunch fit for the chosen one and polished off with a space age sprinkling of ice cream, the children were entertained with a craft workshop including lightsabers and Star Wars masks, as well as face painting, a magician and balloon models ready for tackling the bad guys of the universe. Needless to say, we didn't invite Darth Vader along for the afternoon… !
Thanks to the support of the Rebel Legion UK, a dedicated group of Star Wars fanatics whom make volunteer appearences in full costume, we were able to have a number of Jedi, Stormtroopers and a visit from a fantastic R2D2 model, to add to the intergalactic atmosphere.
The force was strong within all of the attendees, making it slightly difficult to tell who was more excited about the visiting costumed crusaders, as teachers and carers re-lived their childhood and joined in with the photos!
All of the children left with a special gift bag featuring Planet Hollywood t-shirts, kindly donated by the team at the restaurant, and our very own limited edition Star Wars Gold Heart.
Thank you to everyone who supported the party and made it a wonderful afternoon for the children who attended, as well as all whom have already bought our 2012 Gold Heart. May the force be with you… !
Have a heart and help a child by wearing your Variety Star Wars Gold Heart with pride!