1st October 2015
Kaoska Annual Fashion Show in Aid of Variety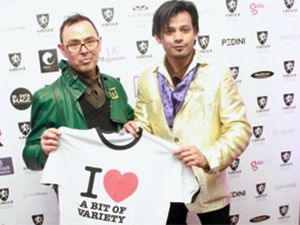 Creative, fresh, and edgy were just some of the words used to describe the city's latest design talent on show at last night's sparkling Kaoska annual Fashion Show. This year it supported Variety, the Children's Charity and attracted names from movies, TV and media like Kevin Leslie, Raffaello Degruttola, Simona Roman, Elise Quevedo, Samuel Anderson and Tonia buxton who came together with key investment and corporate firms to celebrate fashion.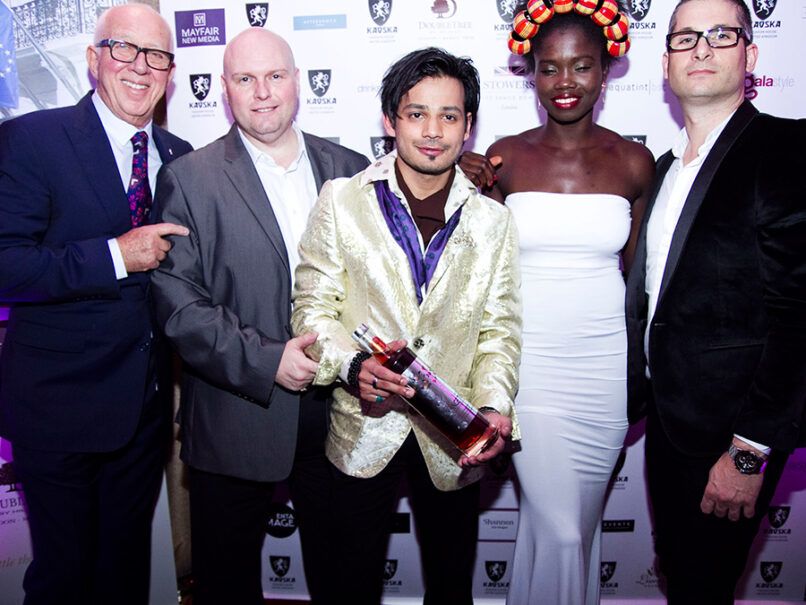 Designers offered celebrity guests the opportunity to wear their designs on the night, to highlight their collections to the key high street buyer groups and selected independent boutique buyers that attended.
In the aftermath of London Fashion Week the event, that took place at the DoubleTree by Hilton London – Marble Arch Hotel, was created to help promote local designers with key fashion business names.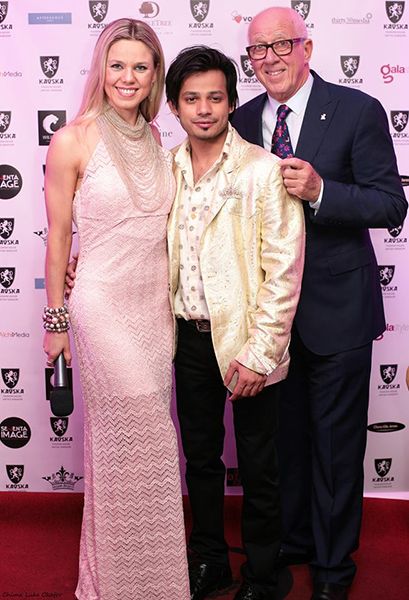 Photo: Diane Ellis Jones – Event hostess, Nomy Khan – Director of Kaoska Fashion House along with Malcolm Brenner – Trustee of Variety, the Children's Charity.
Managing Director, and founder of Kaoska Fashion House UK Ltd, Nomy Khan said:
"I am so pleased the event was another huge success this year. I've said it before but it is truly inspirational to see designers having their big opportunity on the London stage. By introducing them to the key industry buyers it really helps provide a key networking opportunity. We have a great team on this event. I'm also especially pleased this year to be fundraising at the event for Variety, the Children's Charity. The work they do has such a positive impact on children's lives and I'm delighted to be supporting them."
Kaoska unites designers across the wide spectrum of the fashion industry from the established couturier like Nico Didonna with his femme fatal dresses collection, effortlessly stylish Aftershock women's fashion, trendy 'London style' jackets collection by Joe Alvarez, Marria Rosa with her creative use of recycled fabrics and Ray Stower of Stowers of London with the quintessential English Gentleman look.
Celebrity event organiser Jay Hofman of Haus of Hofman added:
"It is so important to help the emerging artists and designers to step up to the next level and this annual event achieved this again this year, I'm always so pleased to see it all go so well on the night and I've been so impressed with the whole event."
The event retained the creative direction of extravagant fashionistas and international catwalk choreographers Barbod Mayriz and Evrin Bashak.
Host of the event, fashion TV presenter and blogger Diana Ellis Jones said:
"Yet again it was another stunning event that attracted some of the big names from fashion in attendance. It really does highlight the amazing new talent that was on show this evening and all this in aid of a great charity, Variety, the Children's Charity."
Malcolm Brenner, a trustee of Variety, the children's charity attended on the evening and who was interviewed on the catwalk on the night, commented:
"This was a superb event and one in which we are delighted to have been the nominated charity. Any event that helps raise the profile of the charity and raise essential funds for sick, disabled and disadvantaged children has to be applauded. I must thank Nomy Khan and the team for all that they have done".
A special thanks goes to the Double Tree Hilton Hotel Marble Arch and sponsors Drinks Motion, Alchimedia, Orange Tree Wine, WildCat Energy Drinks, Greenginger Living, Pedini London, Equity Production, Mayfair New Media, Lisser Moi, Reeta Hair and Make Up Academy. Also the entire team of Kaoska Fashion show 2015 for their support.