17th July 2014
Jo Birchall's Latest Single 'All About Love' Launched In Aid Of Variety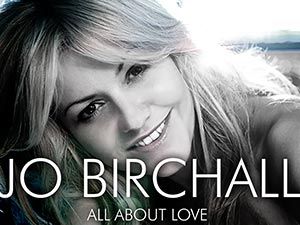 Pop Idol finalist, songwriter and actress Jo Birchall is launching her latest single 'All About Love' and has pledged to donate the proceeds from it to Variety.
Jo offered to dedicate the new single to the Children's Charity having met Stonegate Pub Company Chairman Ian Payne and on hearing about Britain's Biggest Pub Tour (BBPT), a 5,555mile tour of the UK that the 620-strong pub company is undertaking for the children's charity this Summer.
The single, which is heavily predicted to become the song of the summer, is available to pre-purchase via itunes here.

It will officially launch on Sunday 31st August 2014.
Jo said:
"The message in this song is that love is unconditional just like that of a parent for a child. It feels like the perfect fit for Variety and the message of the Tour.

"I feel proud that through this single, the lives of many young children could be improved."
Jo reached the semi – finals of the first ever Pop Idol, so impressing Gary Barlow with her songwriting skills and vocals, that he swiftly signed her to his True North production company.
Trevor Green, Chief Barker at Variety, the Children's Charity, said:
"Jo's music will deliver an uplifting message of hope to so many children and their families. Variety is really proud of 'All About Love' and is so grateful to Jo and all those involved for kindly offering to donate all profit to Variety
Speaking about Jo's involvement with Stonegate Pub Company's BBPT challenge Chief Executive Toby Smith said:
"We are truly grateful to Jo for donating her song to help us achieve our aim of raising thousands for Variety. It's all about, bringing communities together, offering unconditional love and support to those around us.

"When we first dreamt up the idea of touring around the UK with a giant Pledge Passport, challenging our pub teams to move it from one pub to the next using quirky methods of transport, we hoped we might raise £100,000. Unbelievably we've smashed this target already and we're only a third of the way through."
The passport will continue its tour around the country culminating with a spectacular party at Slug and Lettuce, Tower Bridge on Friday 26 September during which Jo Birchall will perform 'All About Love'.
For more information or to make a donation go to:
www.justgiving.com/company/stonegate/events#Britain-s-Biggest-Pub-Tour
www.facebook.com/BritainsBiggestPubTour
https://twitter.com/BBPubTour