5th May 2016
Highfurlong School Gets a Variety Sensory Room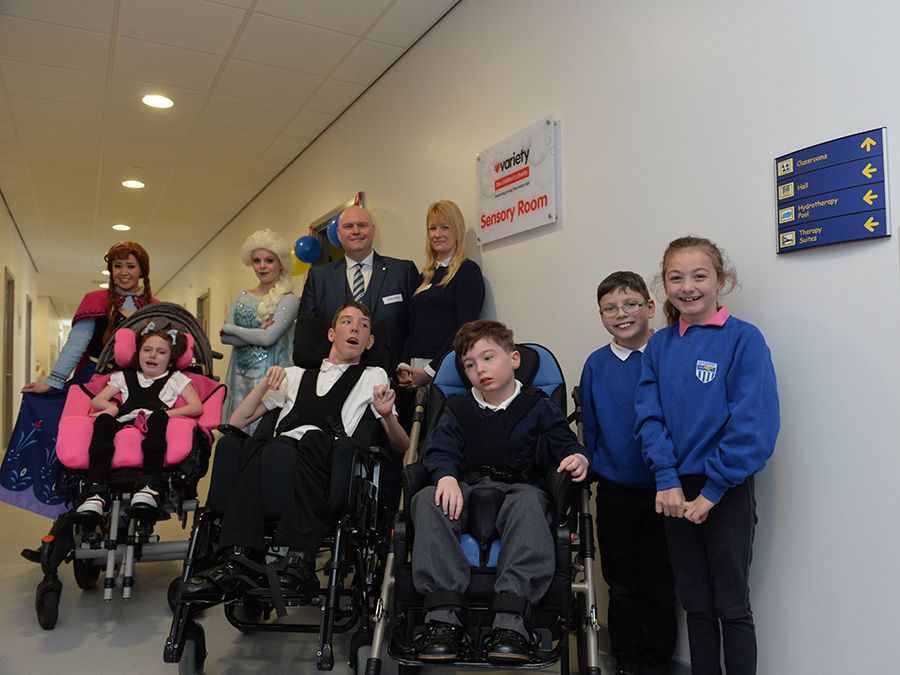 The Variety Northwest Region, is delighted to announce that with the support of The Bingo Association, Blackpool's Highfurlong School Sensory Room was officially opened. The funds came thanks to a generous donation from the charity's partner The Bingo Association, purchasing specialist equipment for the school's newly-constructed state of the art Sensory Room.
The charity's Blackpool, Wyre and Fylde Committee were on hand to see a fellow committee member, the High Sherriff of Lancashire John Barnett MBE DL cut the ribbon to the new room, and welcome pupils to the new space with a number of presents and gifts.
Highfurlong School caters for children between the ages of 2 and 19 with a range of complex and profound physical and learning disabilities. With the school having recently moved to a much-needed new build facility; the decision was made to install a sensory room as a dedicated area for relaxation and well-being for pupils.
Rosie Sycamore, Highfurlong School Headteacher, said:
"All of us at Highfurlong School are thrilled to be the beneficiaries of this generous donation. The equipment enables us to buy will make a tangible and long-lasting difference to the lives of our pupils, as the new sensory room becomes an integral part of their continued development."
David Jones, Chairman of Variety's Blackpool, Wyre and Fylde Committee, added:
"Highfurlong School's outstanding care, culture, and ethos stand as shining examples to the local community, and we are delighted to be able to aid their tireless efforts with this donation. We extend our huge thanks once again to our friends at The Bingo Association, and look forward to seeing the joy it brings to the school's wonderful pupils".
The High Sheriff of Lancashire, John Barnett MBE DL said:
"My wife Danielle and I are delighted and honoured to open the new Variety Sensory Room at Highfurlong School. This is an essential facility in Blackpool and one of many sensory rooms across the country benefiting children and young people. Danielle is herself a wheelchair user with multiple sclerosis, so we understand and appreciate the impact and unique benefits this type of facility can have for each user, contributing to a better quality of life and wellness."
Miles Baron, Chief Executive of The Bingo Association, said:
"We are delighted to support the important work that Variety does up and down the country. Bingo employees and players are known for their generosity and we are delighted that the funds raised are going towards such a worthy cause. We have a huge bingo playing community in Blackpool, so it makes it all the more special that funds raised locally are supporting a new facility that the local community can benefit from."