6th December 2012
Gullivers Park Brings A Ray Of Sunshine To Children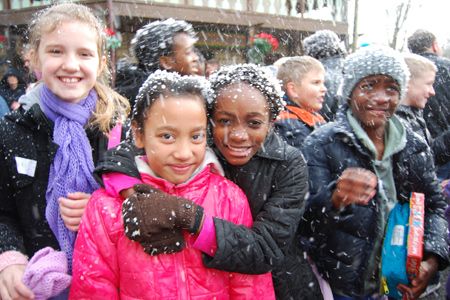 It was a magical way to start Christmas for over 1000 children and their carers when Gullivers theme park in Milton Keynes played host to a Winter wonderland of Christmas shows, pantomimes, fairground rides and a visit to Santa's grotto. The sponsors of the day H.Samuel generously funded the whole day.
There was also a Sunshine Coach presentation for Samuel Pepys School in St Neots, Cambridgeshire. This was made for by Bev Strong of Champneys Charitable Foundation and the players from MK Dons football team.
There are 93 children and young people at Samuel Pepys School aged 3 – 19 years old. The 17 seated Sunshine Coach with a tail lift will enable pupils to embark upon a number of educational and recreational pursuits that they would otherwise not have the opportunity to attend or access.
For instance the Sunshine Coach will enable students to go out into the community and access local activities, such as going swimming on a weekly basis. Students will also be able to go to vocational centres such as the local farm college and link up with other local colleges.
This Variety Sunshine Coach has been generously funded by Champneys Charitable Foundation and is the ninth sunshine coach to be funded by Champneys and Champneys Charitable Foundation since 2004.
Bev Strong of Champneys, commented: "It was a delight to attend Gullivers Land in Milton Keynes to present a Sunshine Coach to Samuel Pepys School. The whole day was so well organised and seeing the children's excitement as they got a present from Santa or went on one of the rides was truly amazing. Mick Harford and Alan Smith of MK Dons attended and were really good with the children as they posed for photos. Congratulations have to go to The Management of Gullivers Land for such a well organised day."
Mandy Green, Head teacher of Samuel Pepys School commented "How appreciative everyone at our school is that we are recipients of an adapted minibus for our young people to be able to access community facilities or visit other schools for inclusive sports events; to develop independence skills by shopping at the local supermarket or to reach local stables for disabled riding opportunities. On behalf of all our excited students who are eager for a turn to use this new bus a huge thank you for your generosity."