11th June 2012
Great Entertainment At The Variety 10th Annual Gastronomic Evening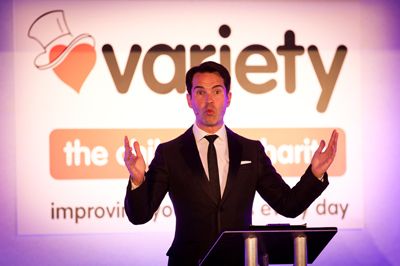 Variety, the Children's Charity, is delighted to announce the final fundraising total from our 10th Annual Gastronomic Evening at The Dorchester, Park Lane, on Wednesday 30th May.
The hugely respected event saw a sumptuous six course menu from Executive Head Chef, Henry Brosi and his team, a truly exciting selection of fine wines chosen by Master of Wine, Conal Gregory, as well as a live performance from West End Star, Robyn North and a comedic turn from none other than Jimmy Carr.

Organised by the Professionals Committee, the Variety Gastronomic Evening is one of our most high profile events in our fundraising calendar that is also a very well supported event and always oversubscribed.
For the 10th anniversary of the fundraising event, the Committee really pulled out all of the stops by organising celebrated West End musical star, Robyn North, who powered through a selection of songs that left the audience in awe of her powerful voice. Thank you to Robyn for an excellent performance and we look forward to working together again in the future.

Our 2012 Gastronomic appeal video was 'Sam's Film' and it was a true pleasure to have Sam's parents, Emma and Mark Acres join us for the evening. The video shows just how important the money raised from such events really makes a difference to the lives of children and young people whom we are able to support across the UK. Thank you to everyone for digging deep and supporting us at this time.

The entertainment also spilled off stage as Stephen Barry and Robert Fox were on hand to provide some table magic tricks.

Variety is so pleased to have raised £100,000 from the 2012 Gastronomic Evening. A sizeable amount of this money was raised during the auction and our thanks must go to all those who donated items, including our Celebrity Ambassador, Aldo Zilli, for his generous offer to cook for a private dinner party.

The evening was completed by award-winning comedian, Jimmy Carr, who took to the stage for his stand up routine and did give the audience a small warning about his jokes before having the whole room in stitches! Our sincere thanks go to Jimmy for supporting us and providing a fantastic slice of entertainment.

Thank you to all who attended, sponsored and supported the event, especially the wonderful team at The Dorchester for exceptional service and care.
A special mention of thanks must go to the Professionals Committee, including Chairman Lionel Rosenblatt and Co-Chairs, Jason Lewis and Jonathan Gold, as well as the Variety Events team for all of their hard work in putting together such a wonderful event. We are already looking forward to the 2013 evening!