15th December 2014
Francis House Children's Hospice receives £20,000 cheque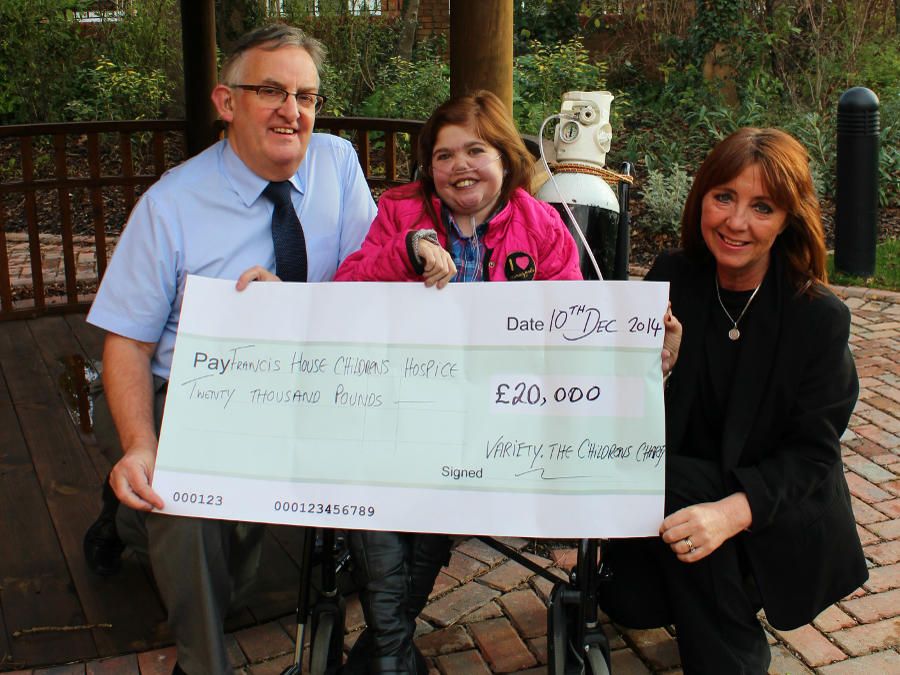 Francis House Children's Hospice received a cheque for £20,000 from Variety, the Children's Charity. The cheque was to David Ireland CEO of Francis House, by Kirsty Howard, a patient and fundraiser for Francis House.
The £20,000 presented was raised at a previous Variety event in September, which saw Kirsty Howard honoured with an Outstanding Achievement Award, in recognition of her own incredible accomplishment of raising £7,500,000, to help the children of Francis House Children's Hospice.
Variety has supported Francis House Children's Hospice for many years, in its work providing care for young adults and children, with cancer and other progressive, life-threatening illnesses. In recognition of Kristy's phenomenal fundraising efforts through her own charity, the Kirsty Club, the committee of Variety, the Children's Charity, decided to support the hospice further, by making this additional donation to her cause.
The funds raised bought The Beach Hut , a valuable and necessary piece of equipment which incorporates relaxation and meditation and a safe place that allows oxygen cylinders to be used for the Children who need it to enjoy the outside space.
Lyn Staunton, Development Director of Variety, the Children's Charity, North West Region, commented:
"We are always humbled by the outstanding achievements of people who have gone above and beyond expectations, and Kirsty Howard is no
exception".
Phil Taylor, Director, Kirsty Club, added:
"We are thrilled that Variety honoured Kirsty with such a spectacular evening in September and that The Juvenile Hospice at Francis House has the Beach Hut to enhance the day to day care of children and young people."