14th March 2012
Former Olympic Cyclist Fundraises For Variety North
Some of the North East's biggest cycling enthusiasts are to embark on a fundraising adventure to support Variety, the Children's Charity, and in honour of a milestone birthday for one North East Olympian and Commonwealth Gold Medallist.
M. Steel Cycles in South Gosforth, one of the area's oldest, most-respected cycle shops have rounded up a team of 20 cycling fanatics, to take a trip to the Pyrenees; visiting one of the leading cycle holiday firms PyrActif, in celebration of the 60th birthday of the shop's proprietor, Joe Waugh. The challenge will take place between 22nd – 29th July and the team will tackle some of the toughest routes on the range, all in the name of raising funds for Variety, the Children's Charity.

Joe's life has been consumed by cycling from a very early age and he represented his country on a number of occasions. He competed in the Road Race at the 1976 Montreal Olympic Games and in 1982, he took part in the Commonwealth Games in Brisbane, Australia, where he brought home a gold medal in the team time trial. Throughout his career, Joe has inspired many cyclists who are interested in the pursuit of cycling as more than just an enjoyable, healthy pastime. This includes one particular individual, and friend of the cycle shop, Chris Balfour. Originally a bank manager, Chris' career changed dramatically after being moved by the stories he read of Joe's cycling achievements in the local press. Chris was interested in cycling from an early age, and by the time he was 11, was cycling mad. His heroes were all-time cycling legend Eddy Merckx, and of course, local cycling hero, Joe.
Inspired by Joe and his career, Chris always dreamed of pursuing cycling as more than just a hobby. Back in 2007, Chris and his wife Helen bought PyrActif, a leading cycle holiday firm in the Pyrenees. PyrActif organise riding holidays in the Pyrenees, designed specifically for cyclists who want to take in the scenery whilst riding. Established in 1994, they have a full-time base in the heart of the mountain range and offer a wide range of holidays. Chris recently contacted Joe to tell him his story of how he inspired him, and extended an invitation to him to come out and visit. With Joe's 60th birthday coming up in July, Dave Buchan, M. Steel Cycles' facilities manager, organised this very special trip in honour of Joe and to visit Chris to take him up on his kind offer.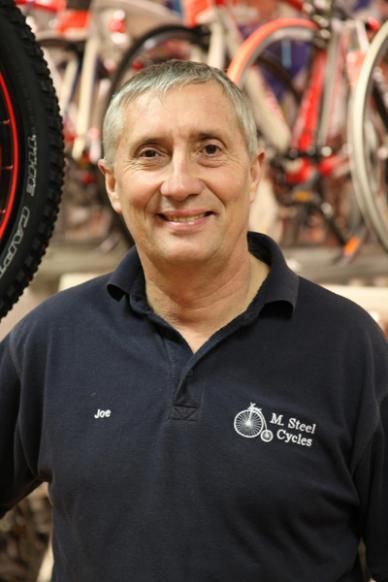 The shop is closely affiliated with Variety, the Children's Charity, and the team will use their trip to raise funds for the charity whilst there, and Joe tells us why this is the case:
"We are very grateful to Chris for the invitation, and I cannot wait to get the trip started. Whilst we're away, we're planning to recreate some of my favourite memories, including riding part of the 'Tour de l'Avenir'- a route very similar to the Tour de France, which is open to amateur cyclists. I rode this route when I was younger, so I'm hoping to go on a nostalgic trip back in time. To bump up the challenge factor, we'll be undertaking the Étape du Tour stage of the Tour de France, which is set over 197km of gruelling climbs and descents, and over four cols. We thought it would be the perfect challenge to request sponsorship for, as many of our customers will know what a challenge it will be. Variety, the Children's Charity, conducts such fantastic work in the local community, helping children and young people who are seriously ill, disabled and disadvantages, so if we can cycle and raise money for this extremely worthy cause, it'll be a very happy 60th birthday for me."
Tony Thornton, chair of Variety North, said:
"On behalf of the Variety North committee, I am very grateful to Joe and his team for picking our charity to support once again. I wish them all the best of luck on their trip, and Joe a very happy 60th birthday."