12th July 2023
Congratulations to Variety Scotland Committee Member, Iain Forbes OBE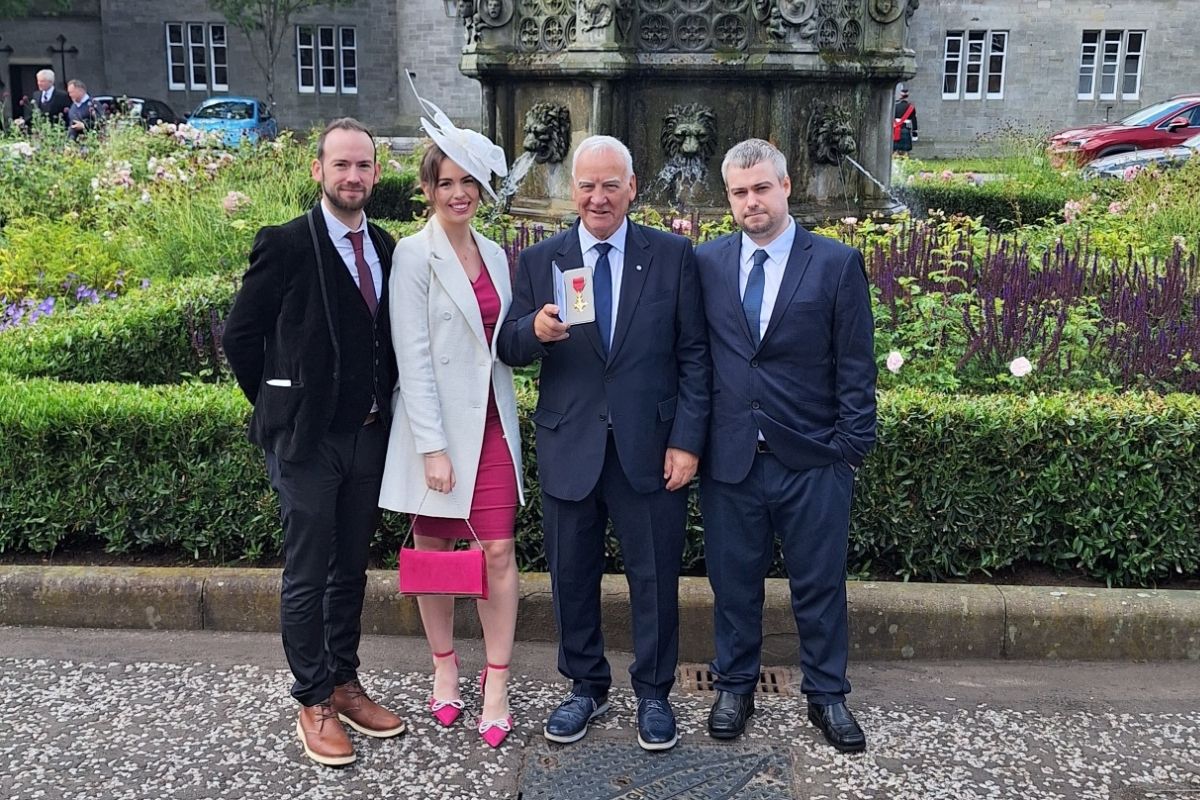 Iain Forbes OBE has been a member of the executive committee for over 30 years and has been Chair of Variety Scotland on three separate occasions. He was first introduced to Variety by fellow committee member, Alan Fraser, who invited Iain to a couple of Variety events.
Iain said:
I really liked what Variety was trying to do and have been committed to the organisation ever since joining.

My most notable moments with Variety have been around seeing the joy on young people's faces when we are able to give them Great Days Out and Christmas parties, or the effect and impact of their organisation being given a Sunshine Coach.

Other notable moments would be the three international conferences I have attended in Los Angeles, Toronto, and London. I also enjoy our annual ball, which is always fun and helps raise much needed funds for Variety
Iain has been granted an OBE for services to business and the Third Sector in Scotland. As well as Variety Scotland's committee, he is the voluntary chair of Includem, a Scottish charity supporting some of the most vulnerable and disadvantaged young people in Scotland. He was also Chair of Glasgow Education Business Partnership, Chair of Glasgow Childcare Partnership, and the Non-Executive Director of the Association of Chief Officers of Scottish Voluntary Organisations. Iain has also been President of Partick Bowling Club three times, including in 2019 for the club's 175th anniversary.
Iain said:
My father used to help run the football team I played for at school and when he died in a car crash aged 53 – when I was only 25 – it reinforced my determination to help where I could through volunteering. I was then an officer in our local Boys Brigade company and throughout my life, I have kept volunteering in one way or another and encouraging others to do the same.

My daughter says she was inspired by me as she has done a few Kilt Walks for Variety Scotland as well as raising money for animal charities and befriending an elderly inpatient at a care home.
The investiture was blessed with sunny weather, which made for a lovely day for Iain and his family.
Iain said:
The highlight for me was the actual presentation of my OBE by King Charles III. I was able to thank him on behalf of all the children we have supported for his father Prince Phillip's initiative in helping found the Variety Club of Great Britain in 1949 and for being a Patron until his death.

The King thanked me and then surprised me by asking if I was still involved in mentoring. I replied that I retired as CEO of the Scottish Mentoring Network at the end of 2018 but that mentoring was used in Includem, which I now chair. He said mentoring was very useful in the Prince's Trust, which is a member of SMN.

We both agreed it was vital that as much support as possible was given to help children and young people achieve their potential.

Having the opportunity to have a brief conversation with the King was unexpected but something I and my family will always remember. I am obviously very proud to have received the honour but also humbled because I am very aware that there are thousands of other people in the UK who freely volunteer their time, experience, and skills.