18th September 2012
City Primary School Discover The Passion Of The Paralympic Games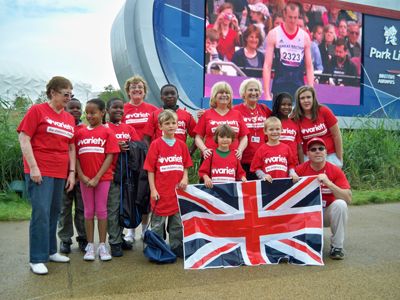 A group of children from a school supported by Variety, the Children's Charity, enjoyed a day at the Paralympics, thanks to tickets from our friends at British Airways. British Airways kindly donated a total of 48 tickets for Sunday 2nd September and Wednesday 5th September.
The children from New City Primary enjoyed seeing goalball, basketball and wheelchair tennis as they enjoyed sunny day wandering through the Olympic Park at Stratford.

Teaching Assistant, Helen Matthews, said:
"It was such a wonderful day and we can't thank you enough for providing us with this opportunity. The children loved it so much that we even had to contact the parents to let them know that we were going to be an hour later home as the children didn't want to come home! We walked back through the park past all the landscaping and the children thought that was fantastic as a lot of them live in high rise flats. One of the children said that when they grow up this is exactly what their garden is going to be like!"
Thank you to British Airways for donating the tickets to us so these children could have a memorable day at the London 2012 Paralympics!