26th April 2013
Cheese And Wine Afternoon With Celebrated Author, Dorothy Koomson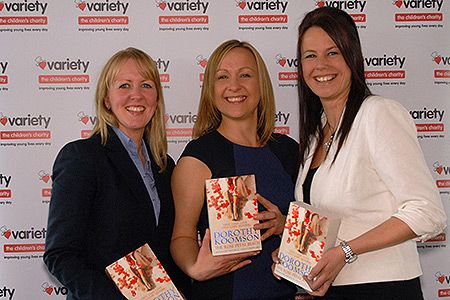 120 women from Manchester's corporate elite, enjoyed a Cheese and Wine afternoon in the company of celebrated author, Dorothy Koomson. The networking event took place at the five star Hilton Hotel, Deansgate, Manchester, on 18 April 2013.
Dorothy was interviewed by Lyn Staunton (Development Director of Variety, the Children's Charity, North West Region) before the audience was invited to join in a Q&A session. Dorothy has written eight best selling books. One of her most famous novels, "Ice Cream Girls", has been adapted for television and is currently screening in primetime on ITV1.
Additional funds were raised with a luxury item raffle, and all guests received a signed book by Dorothy Koomson and a goody bag sponsored by Boo Hoo of Manchester.
The Manchester Committee is extremely grateful to the event organisers: The "Variety Vixens" – Joanne Booth (Cerberus Group), Fiona Parkinson (Close Brothers Finance), Paula Castle (Leonard Curtis) and Carole Vizzard (Leonard Curtis). "We believe in having fun whilst raising funds for Variety, the children's charity and we are so grateful to all our kind supporters who came along to support us on the day.
We would like to thank the companies who generously donated their products: Arbonne, Pretty Pod, Jo Malone, Trevor Sorbie, Stella Dot and Sent from My Kitchen. We look forward to our next event.