18th May 2012
Celebrating The 21st Anniversary Props Awards 2012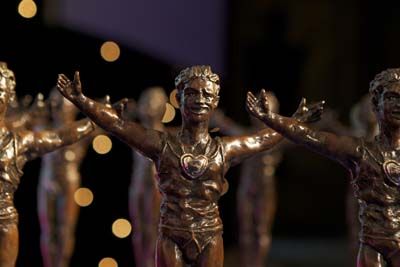 Variety, the Children's Charity, held the 21st anniversary of "the PROPS" Awards at the London Hilton, Park Lane, on Tuesday 15th May. With classic comedy moments and a celebration of the very best in the property sector, it was a wonderful afternoon that raised many thousands of pounds to support our work to improve young lives across the UK.
With over 700 guests, a packed ballroom was ready to be entertained and it proved once again to be a hugely enjoyable afternoon.
Martin Bayfield was our perfect host for the event and provided a cool and calm head, as well as a welcome comedic touch, when required. Alongside Martin was Miss World 2011, Ivian Sarcos Colmenares, who presented the awards to the winning recipients, including Lord Coe who attended the event and received the award on behalf of LOCOG for their development of the Stratford area. Thank you to both Martin and Ivian for their support.
We were delighted to have our Variety "the PROPS" Ambassador, Matt King LLB, with us for the afternoon. Matt delivered a wonderfully touching and inspiring speech about how his life has changed since his accident in 2004.
Our sincere thanks go to Matt and his family for their support – we are so grateful for his help and are very proud to have been able to have supported him. Please click here to read more about Matt and his upcoming honour of being an Olympic torchbearer on Monday 9th July.
As a special surprise during the afternoon, Co-chairs of "the PROPS" committee, Neil Sinclair and Ronnie Nathan, were awarded their own statuette for their 21 years of organising the event and supporting Variety, the Children's Charity.
The awards were presented by fellow Co-chair, Laurence Davis, Variety Chief Barker, Keith Andrews and Neil's daughter and Co-chair of "the PROPS" brochure, Emma Sinclair. Congratulations to both Neil and Ronnie for their wonderful work over the years!
The afternoon also featured an appearance from Al Murray, the Pub Landlord, who was very pleased to be awarded 'Occupier of the Year', beating off some very tough competition! Thank you to Al for his support of the event and we look forward to working together again in the future.
Unfortunately, Barry Cryer couldn't be with us due to family commitments, but he very kindly wrote a special poem for "the PROPS" and filmed a recital which was shown to the audience during the afternoon.
The poem not only brought lots of laughs, but also over £1000 thanks to the auction of a special framed and signed 'one off' edition that was typed by Mr Cryer's own fair hands on his legendary typewriter! Thank you very much to Barry for his continued support of "the PROPS" and we hope to see you again very soon.
"the PROPS" appeal raised over £300,000 for our Variety Wheelchairs programme this year and will go a long way in providing many wheelchairs and other mobility aids to children and young people across the UK.
Thank you to everyone who attended the event and pledged donations – your support really makes a huge difference to the lives of the many children and young people we support each year. We hope to see many of you at "the PROPS" Breakfast in November!