20th June 2014
Britain's Biggest Pub Tour heads to Sandbach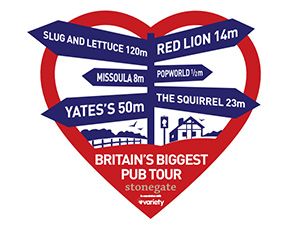 Britain's Biggest Pub Tour (BBPT) is underway and is heading to Sandbach next week. BBPT, which is in aid of Variety, the Children's Charity, will make its way into the Lion Hotel, Sandbach on Sunday 22nd June. The tour will depart for the next leg of its journey that same day.
Each of the 620 pubs and bars from the award-winning Stonegate Pub Company will take part in the event by organising fundraising events galore to raise money for Variety, the Children's Charity. As well as hosting fun events at the pubs, across towns and cities from the Isle of Wight to Inverness, a giant BBPT passport will journey 5,555 miles throughout the UK visiting each Stonegate business, by an assortment of unique and entertaining methods of transport.
As the largest pub tour ever attempted in the UK, excitement and anticipation for the event in Sandbach is already high with crowds of customers expected to participate. The passport will be transported from Reflex in Newcastle under Lyme via cycle and will arrive at the Lion Hotel on Sandbach High Street at noon.
The team at the pub have planned a whole day of family fun activity, starting at 12pm with face painters, two tombola raffles – one for the children, one for the grown ups – a children's colouring competition and a sizzling BBQ in the rear pub garden.
General manager of the Sandbach, Maggie Higgins, said:
"Britain's Biggest Pub Tour is an amazing initiative and in honour of Variety, the Children's Charity. We are hosting a day for the children and families of Sandbach. The passport will only be with us for a short while, continuing its journey via train at 12.30pm, but the family fun day will continue until 4pm. We will not be charging an entrance fee but we encourage guests to donate generously, with all proceeds going to the charity."
As part of the fundraising 50p from the sale of special Charity tipples, Strawberry Pimm's will be donated to the Variety, the Children's Charity.
The passport will continue its tour around the country culminating with a spectacular party at Slug and Lettuce, Tower Bridge on Friday 26 September.