16th June 2014
Bernice Cowen Charitable Trust Presents Variety Sunshine Coach To Radlett Lodge School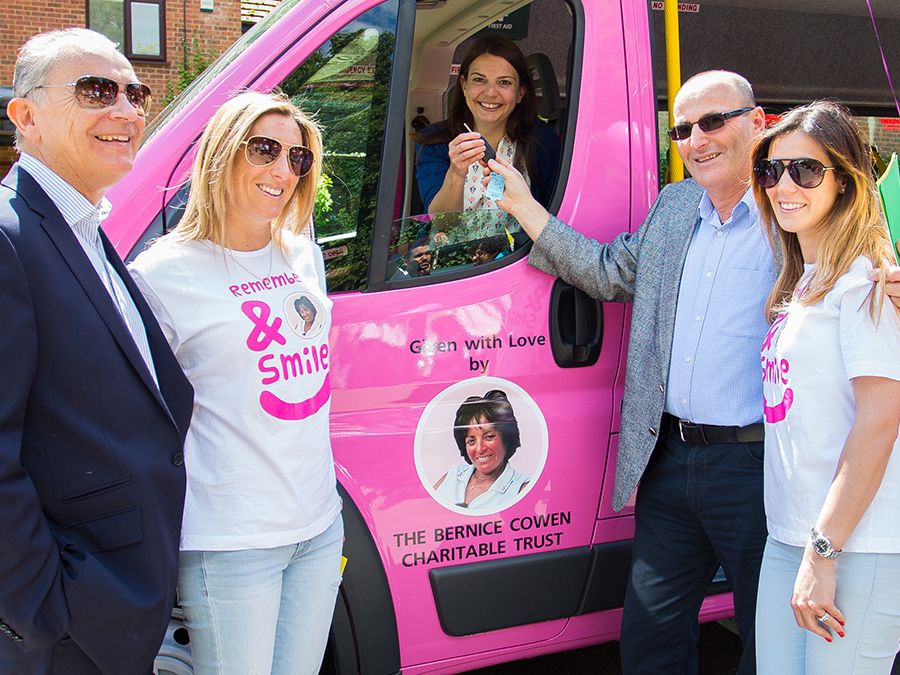 Keys of a brand new Variety coach were handed over by the family of the late Bernice Cowen to Radlett Lodge School on June 6th at Aldenham Golf Club.
Bernice Cowen's battle with cancer began in October 2003. Bernice was an inspirational figure; a nursery nurse, she taught PE at a Holland House school in Edgware and also taught over 1,000 children to play tennis at Drive Tennis Club. Sadly, Bernice passed away on the 11th January 2012. Bernice was a keen golfer and the ladies and captain of Aldenham Golf Club chose an annual club tournament; the Bernice Cowen Inspirational Cup, as an appropriate means of remembering their friend Bernice.
A committee comprising of a dozen close friends and family formed the Bernice Cowen Charitable Trust dedicated to organise events with a dual purpose of raising money for the charity and remembering a very special lady. It only seemed a fitting tribute to sponsor a Sunshine Coach in her name and livery to give to a local children's school.
The 2014 donations were pooled and at the third annual Bernice Cowen Memorial Golf Day; a bright pink bus was presented to the headmistress of Radlett Lodge School for autistic children. Radlett Lodge School is a warm and welcoming autism-specific learning community in Hertfordshire catering for 55 children between the ages of 4 to 19. The school's mission is to live and work together to share opportunities for learning in an environment that is innovative, well resourced and offers high-quality teaching and care. The 14 seater minibus will be used for educational visits to local amenities, recreational fun activities and holiday play schemes.
100 golfers had a wonderful day of golf followed by lunch. The entry fees, sponsorship and raffle raised £18,000. The highlight for Bernice's family was seeing the coach and letting go of one hundred helium filled balloons in Bernice's signature colours.