5th July 2016
Anonymous Benefactor Donates Variety Sunshine Coach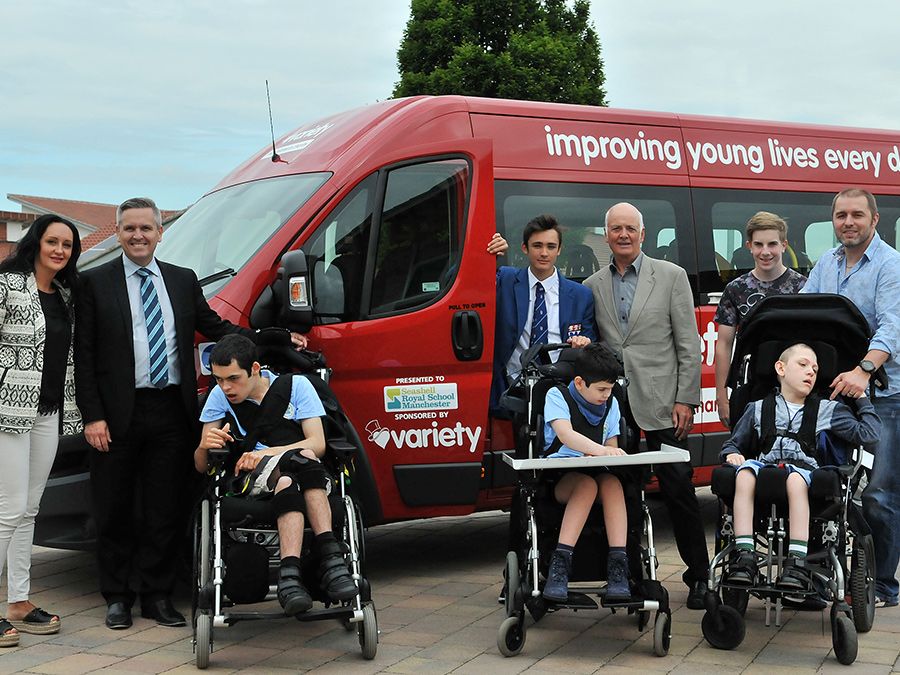 On 23rd June, a wonderful supporter to the Northwest Region donated a Variety Sunshine coach, to the Seashell Trust.
The Trust which runs the Royal School Manchester and residential homes for children with complex disabilities in Cheadle Hulme, was delighted with this fantastic gesture.
Photo: Michael Morrison – Vice Chairman of Variety Northwest Region along with students and staff from Seashell Trust
Anne Gough, Head of Royal School Manchester at Seashell Trust, said:
"In the past, community visits for our children have been difficult to arrange due to limited wheelchair access on public transport. Having our own Sunshine coach means that our children can now have regular community visits which will lead to improved life outcomes for all. The donation of the Variety Sunshine coach, has really made a difference and will support the education and well being of all our children at Seashell Trusts Royal School Manchester."
Michael Morrison, Vice Chairman of Variety Northwest Region, handed over the 17-seater coach which has space for four wheelchairs. This will be used to give children access to a variety of activities in the community from great days out at the seaside to visits to the cinema and educational visits to local parks and museums.
Lyn Staunton, Northwest Development Director at Variety, said:
"It is always a great day when a new Variety Sunshine Coach takes to the road bringing miles of smiles to so many children, but today its extra special as many people have done so much, to make this happen for Seashell Trust. I would like to express my sincere thanks to our most wonderful benefactor and every one who made this day happen."