31st July 2013
ACI UK Well Over Par In Magnificent Golf Day!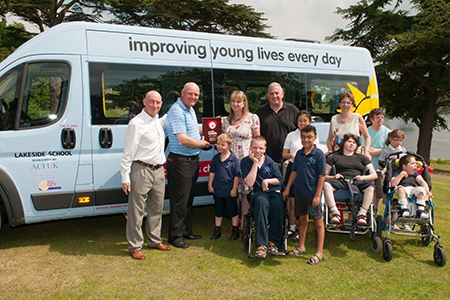 On Monday 8th July the 15th Annual ACI Charity Golf Day took place in the magnificent splendid surroundings of Brocket Hall in Welwyn, Hertfordshire. This year's sell out event saw teams from leading companies in the Financial Markets Association, enjoy a highly competitive game in very warm conditions. However, all their efforts paid off when they returned to the clubhouse to see the smiling faces of children from The Lakeside School in Welwyn, the recipient of ACI's 51st Variety Sunshine Coach, funded by the event!
Lakeside School caters for 63 children with severe, profound and multiple learning difficulties. A third of the children autism and pupils have a range of genetic conditions including cerebral palsy.
Judith Chamberlein, Head Teacher of Lakeside said:
"The new Variety Sunshine Coach will be used to enable students to take part in educational trips on a par with their able bodied peers The new coach will enable the school to provide a wider range of experiences and learning opportunities including visits to museums other educational establishments, as well as trips to take part in swimming, sailing, boccia and football. Our Boccia team reached the National Finals and our team was delighted to be the first to travel in the new bus. We are so grateful to ACI and to Variety for their support"
ACI UK is The Financial Markets Association, which represents the interests of traders and brokers in the UK wholesale financial markets. It organises a range of business and social events for its members, many of then which raise vitally needed income for Variety.
Golf Day Organiser and ACI Member, Alan Clarke, said:
"The partnership between ACI UK and Variety continues to flourish following a very successful golf day at Brocket Hall. It's great to for "City folks " to be able put something back into society and many of our membership were discreetly brushing away tears as we waved goodbye to the children from Lakeside school in their new bus"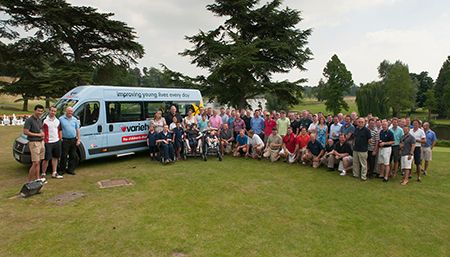 The golfers join the teachers and pupils from Lakeside school for the presentation of the coach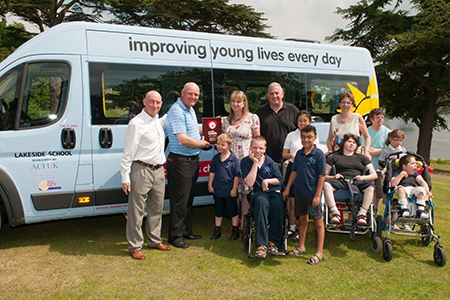 Children from Lakeside School join Comedian Adger Brown, a Variety Ambassador who presented a memento to, Sue Attwood, MD of ACI UK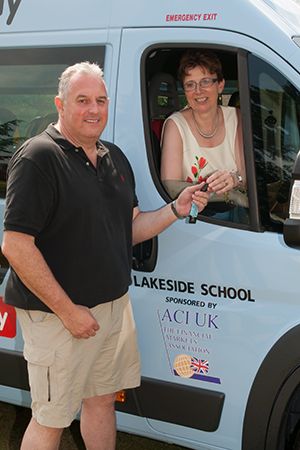 Alan 'Shoulders' Clark, from ACI, and the Golf Day organiser, presenting the keys of the coach to Judith Chamberlein, Head of Lakeside School