12th July 2012
ACI Hits Fif-Tee With Variety Sunshine Coach Presentation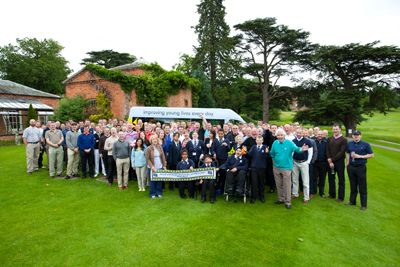 The occasional rain showers during the annual ACI UK Golf Day at Brocket Hall in Hertfordshire were no match for the enthusiasm of the intrepid teams from the Financial Markets sector.

The players were joined by wonderful comedian Tom O'Connor and Keith Andrews, Chief Barker of Variety, who all enjoyed a fantastic day made extra special by the presentation of ACI's 50th Sunshine Coach, on this occasion to Feltham Community College in West London which supports a range of students with often complex physical, sensory and medical needs including Cerebral palsy, Duchene's Muscular Dystrophy, Neuro disability and Dyspraxia. The school delivers specialist programmes aimed at supporting the specific needs of the students.

This amazing achievement was made possible by ACI's fantastic commitment over many years to improving the lives of disabled and disadvantaged children.

We are delighted that ACI UK has been a keen supporter of Variety for many years and is one of the most generous funders of of our work.

Over many years, ACI has raised nearly £800,000 for our work through its very popular Golf Day and renowned summer party. ACI UK actively promotes the educational and professional interests of the financial markets in three specific areas – Community, Education and Charity.
Morgan McDonnell, President of ACI UK, speaks passionately about Variety and thanks everyone for their generous support of our work:
"ACI UK is a peoples' organisation with a vision of a better future and as such, we are proud of our longstanding support Variety, the Children's Charity, being an organisation with a vision of a better world for disabled and disadvantaged children in the UK."
Keith Andrews, Chief Barker of Variety, the Children's Charity, thanked all the golfers for their wonderful support of the event and in particular, the organisers, Alan 'Shoulders' Clarke, David Hastings, Andy Durrant, Al Crane and Sue Attwood.
"Variety is entirely reliant upon the generosity of the public to fund our vital work improving the lives of children and the ACI Golf Day represents a wonderful example of teamwork in bringing about a better life for so many.We really can't thank ACI and the players enough but allow me to also say a special thank you to Tom O'Connor, a Variety Celebrity Ambassador, who entertained us all royally after the lunch."
Dawn Botha, School Head said
"I have never seen the children so excited. Our new coach will be invaluable in giving them access to the wider world as well as delivering specialist programmes aimed at supporting their specific needs of the students. We can't thank ACI or Variety enough"