6th October 2016
Tyler's Story
London and the South East
Wheelchairs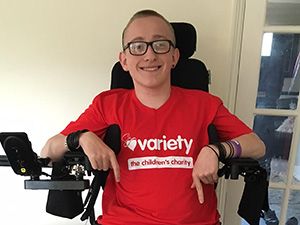 That will require him to meet the challenge of independent living. Tyler is used to challenges. He confronts them every day without complaint, even when life is difficult for him.
At the age of 10 he underwent corrective surgery to both hips and a few years later had spinal surgery to insert metal rods that would correct his scoliosis.
He has outgrown his current wheelchair which provides mobility but rather limited access to his immediate environment.
What Tyler needs is a more appropriate powered chair, one that will enable him to literally reach new heights of independence.That means when he is at his college he can reach tables and cupboards more easily to make himself a drink or something to eat.
Being able to rise to a standing position will give Tyler eye to eye contact with those around him and regular changes of posture will ease the strain on his limbs and help his legs to continue to support his weight.
That's when Variety agreed to improve Tyler's life by helping fund the balance needed to buy him a Permobil F5 power chair, thus adding to the donations already made by the family and their own substantial fundraising efforts. Now he can pursue his music studies, go to gigs with his mates and, for the first time, even get a good view of the performers. In fact, there's hardly an aspect of Tyler's life that his new power chair will not make a difference to.
Earlier this year, Tyler was on stage as a guest at Variety's Annual 'The PROPS Awards' fundraiser where his dad told Tyler's story to a packed audience. The event raised £380,000 enabling Variety to not only contribute to Tyler's wheelchair but to fund many more besides.