13th August 2013
Treloar Trust's Story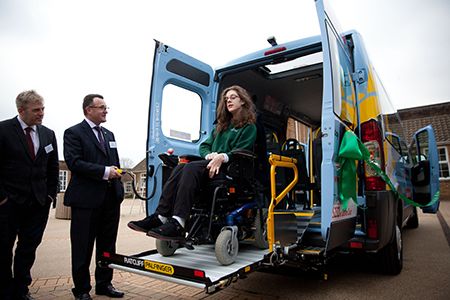 Treloar School and College caters for 137 children and young people aged 7 – 19. Students have over 40 different disabilities combined. 70% of students have cerebral palsy whilst other students have disabilities including Muscular Dystrophy and Spina Bifida. Students also have degenerative or life limiting conditions.
Over 90% of students use a wheelchair
40% have little or no useable speech
30% have a visual impairment
20% have life limiting conditions
11% have gastrostonics
4% require regular use of ventilators
1% need 24 hour nursing care
Private transport is indispensable to students in order for them to gain vital independence skills, achieve inclusion in the community and to explore, learn and socialise away from the Treloar's campus. For many, the opportunity to go shopping, participate in a community activity or go on a school trip can be an incredibly liberating experience and the Sunshine Coach will open up a world of opportunity for the children.
The overwhelming majority of students are totally reliant on wheelchairs for mobility and many of the students have such limited mobility that they require a powered wheelchair. Having specially adapted buses at their disposal is absolutely essential for all students when disabled access on public transport is often inconsistent or inadequate. The Sunshine Coach makes around 250 individual journeys each academic year.
The Sunshine coach is used for the following:
Daily trips to Alton College – where approximately 20 students go to pursue a broader range of 'A' level subjects.
Regular journeys for specialist medical appointments – as students' complex health needs cannot always be met by staff at the on-site Health Centre.
Weekly Occupational Therapy Community Skills outings
Weekly journeys to local businesses for work experience placements
Weekly trips for extra curricular activities
Outward bounds study programme
The impact of a Sunshine Coach is felt by both students and staff. The benefits include:
Improved access to educational opportunities
Enabling all students at Treloar's to have work experience embedded in their learning
More frequent opportunities for students to acquire daily living skills and greater independence
Greater access to various types of curriculum enhancing activities
Ensured attendance at essential medical appointments