15th December 2015
Taylor's Story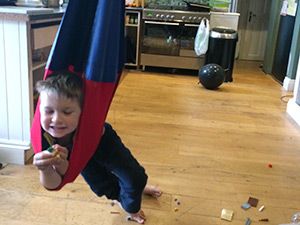 His frustration often spills over into a fury of energy that sees him careering round the room and literally bouncing off the walls and jumping off furniture at dangerous heights.
Taylor needs to experience the impact of his own body on the environment around him to find a sense of calm. The only way his mum could help with this was to place him in a basket or blanket and swing him. But his mum is recovering from surgery and should not be doing any lifting.
Variety wanted to help both Taylor and his mum so they provided a Sling Swing. This has enabled Taylor to start learning how to self regulate his behaviour and gain an understanding of balance. He will lie in the swing and sign when he wants the extra stimulation of going higher. Sometimes he will hang his weight in the swing in order to relax and watch his favourite TV programmes. This is very calming for him.
Becky, Taylor's mum, says:
"Your incredibly kind donation has made an absolutely massive difference to my own health, my sanity and our family as a whole. But most importantly, it has given Taylor the ability to manage his sensory processing disorder, to reduce his anger and frustration and find some enjoyment in his needs. I simply cannot thank you enough."