1st May 2015
Nash's Story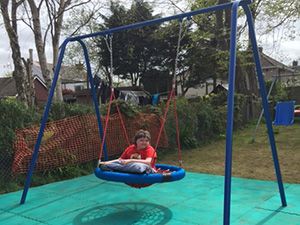 The heavy steroids, which form part of his medication, have the unfortunate side effect of weight gain.
Nash finds it difficult to interact with his peers due to his severe autism, so he prefers to be alone, away from noise, which affects him, and away from the hurtful comments he sometimes receives from other children, which he finds distressing.
The combination of these issues mean it is very difficult for his mum to take him to the park for some fresh air and fun.
Variety wanted to give Nash the same opportunity that other children have to play so with funding from The Stonegate Pub Company, Nash was given his very own bird nest swing. Now he can enjoy calm and peace in the security of his own garden. The swing encourages him to exercise and because he's relaxed and having fun it helps to take his mind off the constant itching from the eczema.
Since it was installed his mum says she has a job to get him back in the house.
Nash is very happy and thankful for his swing. Mum and Nash send thanks to all that made this possible.