13th August 2013
Matthew's Story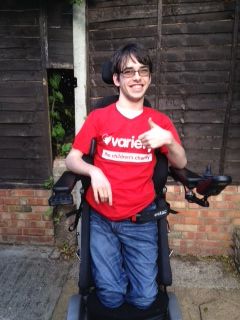 However he is a bright, funny, intelligent young man. He doesn't complain and is always so grateful for any help he receives from others. He totally relies on his wheelchair for all his independence and freedom. He loves to play Boccia, going horse riding and sailing.
Matthew has been able to gain seven GCSE's plus a BTEC level 2 in Business Studies, and is now working on his BTEC level 3 in Business Studies and an A Level in Psychology. This year he has begun a COPE (Certificate of Personal Effectiveness) Programme, which is similar to a Duke of Edinburgh award. This will help him develop social, educational and other broader skills. Matthew loves watching American sports and enjoys musical theatre and film.
Variety had previously helped Matthew and funded his first wheelchair – a Balder Finesse 290 four years ago. That chair made a massive difference to his life but he had outgrown it and needed a new one which offered him better mobility. He also really wanted a chair which would give him more independence and stop him from relying on his mother in order to get around.
Taking into account our history with Matthew, and all he has been able to achieve, we felt we needed to continue our support and help this young man as he comes to adulthood. Therefore in June 2013 an Etac 890 Electric Wheelchair was delivered which immediately impacted on his life.
"Well, I have had my fabulous new Etac 890 for a week and as well as my normal school day activities I have also visited two University open days (Oxford Brookes and Canterbury Christ Church) and Surrey Sports Park, unfortunately not for exercise but for Starbucks, travelled on a bus, attended a parents evening talk about University and a shopping trip into town. So I have had many different environments to familiarise myself with my new powerchair and it's like a new lease of life!
I didn't realise how different it would be to have a chair that fits me properly again. Standing in particular is easier, I stand straighter and it is a lot more comfortable but getting used to the different controls and the way it operates has been challenging at times, more for those around me who have to listen to a quacking noise if I try to move and, say, my footplate is in the wrong position. However, I quite like the quack and also a 'permitted' move makes a noise like a supermarket checkout counter and I like that also!
I am so grateful for all your hard work in raising money that has enabled me to have this new form of independence. I was looking for one to see me through University and into adulthood and it's fantastic that I have received this new chair right at the start of the process. I would be delighted to be an ambassador for Variety, your work really does make a difference!"