28th July 2015
Luna's Story
Luna needs help for everyday things like getting up, getting washed and dressed and eating.
She would love to be more independent so she could join in more at home, with her friends and at school. Although it is quite difficult to hold the crayons, Luna loves drawing and colouring and is quite creative. She starred in the school nativity play last year and really enjoyed it. Swimming and playing in the park are among Luna's favourite activities as well as 'Rainbows', – a younger version of Brownies.
It is sheer hard work and determination that have enabled her to progress.
The wheelchair that Luna was currently using had a number of problems: she had outgrown it, the construction forced her to sit with a slumped posture (not good for her spine) and it was very heavy. That meant that while she could propel herself over short distances, longer ones required an adult to push her.
A younger sister, just one year old, meant life was difficult for mum too, as she had a pushchair and a wheelchair to cope with if they went out.
Despite her conditions, the problems they cause, and the unsuitability of the existing wheelchair, Luna does not qualify for the NHS to provide the type of wheelchair she really needs; one that would give her the independence she craves so she can play with her friends and get around more easily at school.
Discussions with her physiotherapist identified the right type of wheelchair and thanks to support from Richard Vann of RVA Group, Variety was able to provide Luna with a new, lightweight Panthera wheelchair.
Everyone was amazed at how Luna was now able to whiz around in her new lightweight chair all on her own. Finally she can be independent. Now mum and dad can relax a little, knowing she's happy and safe when they have to give attention to her baby sister.
Luna's mum and dad said:
" It has made such a difference to Luna. It has given her confidence and she doesn't get tired pushing herself along, which was not helping her concentration at school. It has also enabled us all to have a more normal family life together. Thank you Variety."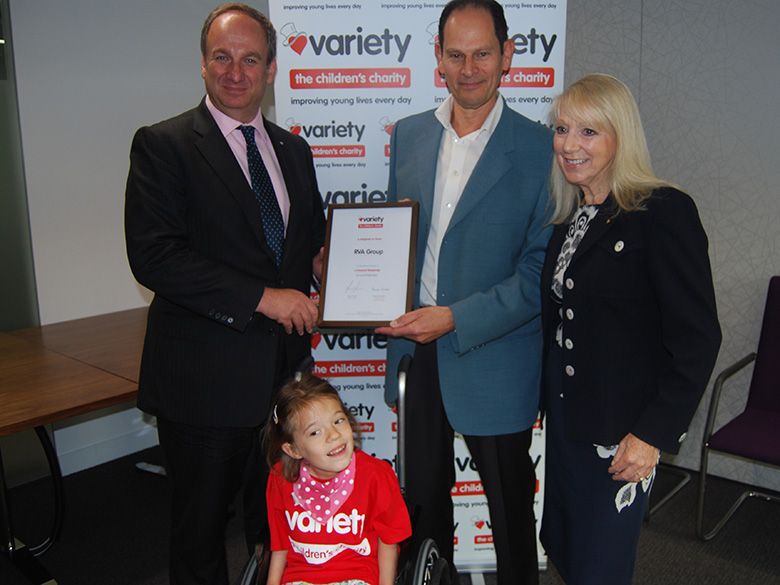 Luna along with Variety's Chief Barker – Jason Lewis, Richard Vann of RVA Group and Pamela Sinclair – Chairman of Variety's Wheelchair Programme