15th November 2023
Lenny Whizzes Around in his New Wheelchair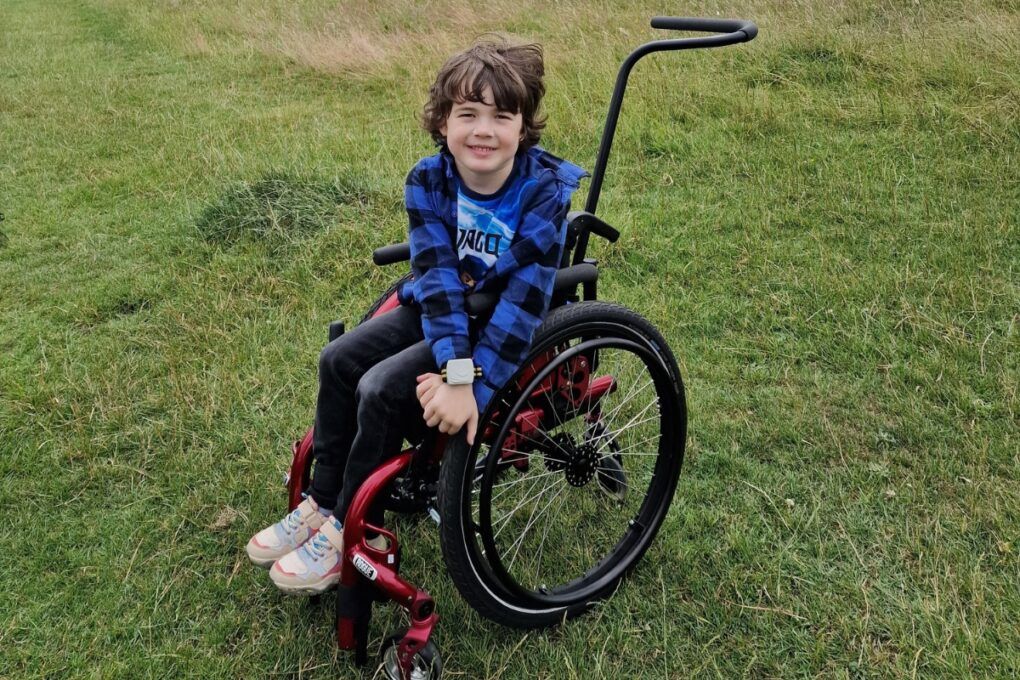 Lenny lives with his mum, his dad, and Monty the dog. Lenny is a cheeky young boy who is full of life. He makes his family laugh every day, and he shows his kind and caring nature with his eagerness to help others.
Lenny loves koalas, Australia, dogs, and Spiderman. He is a lively boy who loves to be outside exploring. He is always eager to visit a castle, abbey, or a forest. His favourite toys are his toy cars and he plays powerchair football and goes horse riding every week.
Lenny has Duchenne Muscular Dystrophy, which is a degenerative muscle condition that means his muscles are slowly declining, impacting his entire body. The condition will eventually affect his heart and lung muscles.
To help slow the progression and manage his symptoms, Lenny has twice daily physiotherapy and takes medication every morning. His family say he is better at swallowing tablets than most adults! There are thirteen different professionals involved in Lenny's care to help him make the most of life.
Lenny uses a wheelchair for mobility and needs support getting around. He is able to walk, but as he tires easily, he needs help to pace himself and he can only walk short distances. A suitable wheelchair is essential for Lenny's independence and inclusion in activities. His old NHS wheelchair was not suitable for him as it was too heavy for him to self-propel and it kept falling apart.
Lenny's family got in touch with Variety, the Children's Charity after receiving a quote for a lightweight manual wheelchair. When their application was successful, the news came as an incredible relief to the family.
Lenny's mum, Kirsty, said:
The process was all straightforward and supportive. I cried on the phone when we were given the good news on the funding!

Lenny can whizz off by himself now and you'll often find me running down an aisle in a shop after him! The wheelchair is so lightweight that it is incredibly easy to push and it makes such a difference when we go on outings as a family. Lenny has an additional pair of mountain bike wheels for his wheelchair, which means we can go off road and over slightly trickier terrain and get Lenny exploring!

I wish more people knew that Duchenne Muscular Dystrophy existed, because I didn't before Lenny's diagnosis. I wish people know how Duchenne is an awful and devastating condition that impacts the entire family and how hard being a parent-carer is, because it isn't easy. The more people that know, the more funding and awareness can be raised to find a cure for Lenny and children like him.

A huge thank you to Variety for supporting Lenny and us to get the manual wheelchair of his dreams. He wants to use the wheelchair in the Spiderman colours he chose, and it has hugely helped his self-image when it comes to his wheelchair. Thank you!
Lenny has recently been accepted into a hospice and his family look forward to seeing how they can support Lenny going forward.