10th June 2020
Kerry discusses her life as a parent-carer of Tyler, and shares how a sensory kit from Variety has helped
London and the South East
Equipment grants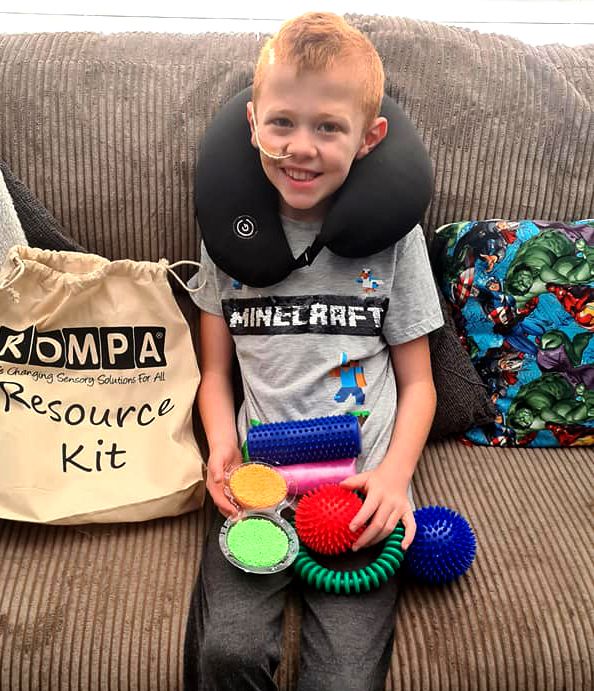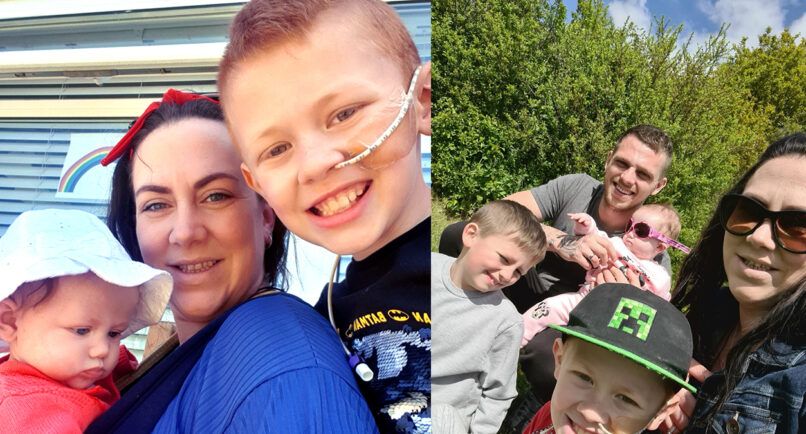 Kerry's recommendations to other parent-carers during the COVID-19 crisis
"It's important to not expect your children to be perfectly behaved right now, when the adults aren't at their best either. It's a struggle for everybody at the moment. Pick your battles – if something isn't the end of the world, just bite your tongue. It's too exhausting, otherwise. Have no qualms about reaching out for help. Remember that every day is a new day. Leave the negatives where they belong – yesterday – and try not to dwell on them, as your children can pick this negativity up. Take each day as it comes, and just think: 'Today is just 24 hours – we can do this!' "
About Tyler's behaviour and daily life
Tyler has high levels of anxiety, which affect his eating massively. When he's not anxious, he can eat a little, but when he is feeling anxious, he can't eat at all, so he is mostly tube fed. Tyler was due to have a PEG (percutaneous endoscopic gastrostomy) procedure six days before lockdown started. This had to be cancelled though, so he still has his tube, which has to be changed regularly. Tube changes are incredibly stressful for Tyler, so the toys from the sensory kit have been a helpful means of calming him down around tube changing times.
Normally, Tyler goes to school. He is at a SEND school where he gets a lot of support with learning and sensory input. He hasn't receivedany extra support outside of school, but the family have fundraised in the past when needed. This helped them fund brain scans and pay to have his full diagnosis confirmed when they couldn't get everything they thought he needed through the usual NHS routes. The family have also made changes to the house and created a sensory garden with a climbing wall so that Tyler's needs are met at home as well as at school.
The impact of the lockdown
There have been some positives to being at home during the lockdown: Tyler's anxiety around mealtimes has reduced slightly, and he has tried to eat more at home. Usually lunchtime at school would cause him a lot of stress.
The lockdown is now dragging on a bit, however, and Kerry is starting to notice Tyler withdrawing from the rest of the family and spending more time on his own (often with his sensory kit). The family has been shielding, so they have not been going out at all, which hasn't helped. Kerry is looking forward to being able to take Tyler out again soon, and hopefully to seeing him enjoy himself more.
Kerry thinks that Tyler has been more angry during lockdown. While he's not exactly having meltdowns, he has been quite emotional and annoyed, probably as a result of boredom. He would normally have PE every day at school, which helps, but being at home doing nothing has made him frustrated. He doesn't like having to use his chair for walks (he thinks it's babyish) but he can't walk far either, and he fatigues easily. Tyler's sleep has been affected badly too. He had previously established a good sleeping routine where he would sleep through the night, but now he is finding it harder to settle and get comfortable in bed. It's clear that Tyler is not getting the mental stimulation he would normally get at school, and so he isn't as tired as usual at the end of the day.
The change of routine in lockdown has affected Tyler's behaviour, in that he is becoming more withdrawn and anxious. He can't cope with the idea of schooling at home either, as school and home are very clearly boundaried for him as two separate places. Rather than put pressure on themselves to enforce home schooling, Kerry and James are just doing anything they can to help ease Tyler's anxiety and anger.
The family's usual routine has also been affected in terms of who they get to see. Usually Tyler's Nanny would come to visit twice a week, and Kerry's aunties would come over regularly too. Under lockdown, this has stopped abruptly, and now Tyler doesn't see anyone other than his parents and siblings. Suddenly having no other family visiting has been hard on him. He doesn't really have friends, although he does like to interact with the other children at school, especially when adults lead group activities. He has definitely bonded with his brother more during lockdown. Seeing their relationship develop and get closer has been one of the positives of being stuck at home (apart from when Tyler knocked his brother out cold – by accident!).
How the sensory kit is helping
When Tyler gets angry, he can get aggressive and smash things, but now he's diverting that anger to the sensory toys, they help him calm down a lot quicker. If he gets angry, he goes and puts his neck massager on. They are taking the place of some of the sensory toys he would usually have access to at school, which would help him a lot during the day. His autism isn't his primary diagnosis and his sensory needs aren't extreme, but when he is out of control the sensory side of him kicks in and that's when he needs input. He doesn't often show signs of needing input, so much of the time Kerry says they are 'winging it' and seeing what he responds to. He doesn't like cuddles, but the tactile kit works well for him.
The toys in the tactile kit have really have helped in terms of calming Tyler down, and in managing his anger at being stuck at home during lockdown. When he's calm and not in need of specific sensory input he still plays with them as 'normal' toys, but they also give him an 'out' and it helps him to have toys which are just for him and that he can take his frustrations out on. When the kit arrived his response was 'These are big boy toys!' – the fact that they are so different to his brother and baby sister's toys, and that they are his toys primarily is really important (although he will share with his brother if he feels like it).
The toy he loves most is the neck massager – it's on nearly all day and the family has gone through three sets of batteries since it arrived! It's very soothing for him. He has quite weak muscles and he's straining a lot during the day, so it helps soothe his muscles if they're sore. He also sleeps with the ROMPA bag at the bottom of the bed. Nobody is allowed to touch it, and the bed gets made over the top of it.
About the impact of the kit on the wider family
The kit has been absolutely positive for all of the family, Kerry says: "…it's something fun, it's colourful, it's something for all of us to get involved in, and Tyler can play with it independently too if he needs time alone."
"We roll the balls to each other. Tyler lets us roll the ball up and down his back and arms which he's never done before. It's also so positive in itself that someone has recognised our need and has given us something to help him."
Rueben benefits from playing with the toys too – when Tyler allows him!
Tyler can divert his attention with the toys when he's getting angry or upset.
Challenges of life under lockdown
The most challenging thing for Kerry about the lockdown has been her anxiety around what's going to happen, and how she can keep the children safe, or return them to school where it's going to be different from before. Kerry and her husband will be keeping the boys out of school until September. They are worried about how school will be for the boys with social distancing rules in place, and whether they will be able to understand the changes.
Because her husband James has been furloughed and is at home, Kerry says they have made the best of the situation and tried to stay positive and get on with things. He might have to go back to work soon, however, so Kerry is worried about how she will cope then. She is sure the sensory kit will come out much more when she is on her own for most of the day. She feels they've managed well as a family so far, but can sense a downward spiral starting and she is expecting a big meltdown soon. This happens from time to time, and they will try to get through it as undamaged as possible. Kerry's main concern is looking after her children's mental health.
The positive side of the lockdown has been that Tyler is bonding with his brother Rueben more, occasionally sharing the toys from the kit so that his brother can benefit from them too.
Kerry's advice for other parents regarding sensory toys
"Sensory is a whole library of learning – you really need to learn about your child. To start with, I went out and bought loads of stuff that didn't work for Tyler at all. I spent hundreds of pounds on things he didn't like. As he's gotten older I've learnt what works for him, so I would suggest allowing yourself to be led by your child and learn what they need – and expect it to take some time to find what works.
"Sensory toys don't have to be expensive – you can make most things at home. Don't rush out to buy all the fancy equipment. Look around and find things that cost a bit less. You don't always have to look for things that are labelled 'for special needs' either; household objects can do just as good a job.
"It's not right for everyone, but one of the best things we did was getting a dog! Our dog Max is Tyler's best friend and when he won't talk to mum and dad, he will talk to Max and tell him why he's upset."
Kerry says they will continue to use the toys after lockdown ends, as Tyler really loves them. She thinks they may get worn out or destroyed quickly because Tyler can be quite aggressive in his play, but that's down to him – not the toys.