17th February 2017
James' new wheelchair story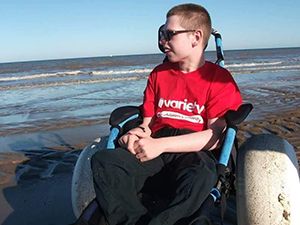 He is dependent on full time care and a wheelchair for mobility.
Despite his many problems James is a surprisingly happy young person. He enjoys music and socialising and has recently started to learn to use a computer than can be operated by his eye movements.
James' parents make incredible efforts to give him as many typical life experiences as they can. Being able to share the great outdoors with him would dramatically improve his quality of life; a view shared by his Occupational Therapist and Head Teacher.
The NHS wheelchair that James was provided with is fine for the pavement but it just cannot cope with anything that might remotely be described as off-road. So James can only view the great outdoors from afar.
That's why Variety agreed to provide a more rugged Hippocampe wheelchair that would not only enable James to explore the outdoor places he longed to experience but would last him well into adulthood too.
James' mum says:
"Variety gave James the opportunity to live and not just exist, you have put the variety back into James life and I will always be grateful to you."