20th November 2017
Illias' Story
London and the South East
Equipment grants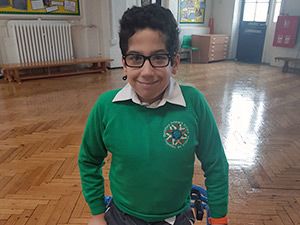 Illias loves singing, playing the piano and basketball but having to always use a wheelchair is restrictive and could lead to longer term health and mobility problems for him.
So Variety agreed to fund a Kaye walker.
This means that, when he doesn't need to use his wheelchair, Illias can be up on his feet, exercising his legs and his independence.
Illias'parents say:
"What a fantastic bunch of people Variety are. With his walker, Illias can decide for himself when he wants to get into it, power up and go wherever he wants to in the house and outdoors. This is making him feel so much more empowered and independent as he doesn't need to rely on us to move him about at home and, looking to the future, is helping to make him confident about not always using or needing our help.

Thanks so much to Variety for making this possible! Without you all our lives would be so much more difficult."