21st January 2021
"I was desperate for a suitable wheelchair for college, to help me be independent and get around easily"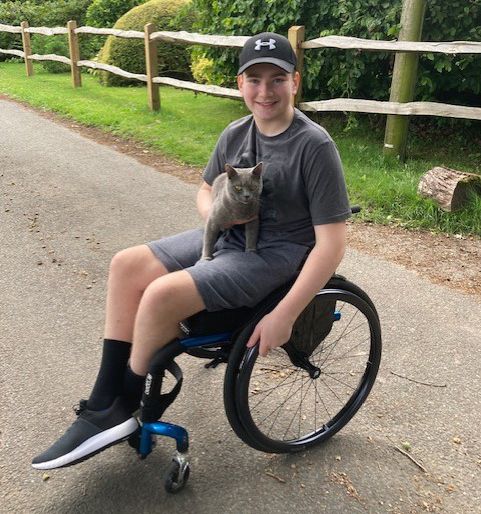 Andrew explains:
"There are two types of CRPS, and I have the nerve damage type II. CRPS is unfortunately not 'fixable' – some people can recover, however, going backwards is common. The pain is extreme, and my foot can swell, change colour or look completely normal – but the pain doesn't go away. Sometimes I feel like my foot is on fire or like there is a spot inside me trying to explode. It makes me feel very low at times, and also makes me extremely anxious about certain things. Sadly, all the pain has caused me a lot of trauma and my mental health took a nose dive. I have lost all childhood memories, and can only remember things since May 2019 which is when we got my therapy cat, Lucas. However, I often forget things that have gone on since then."
Prior to receiving his new wheelchair, Andrew borrowed a wheelchair for six months whilst the family waited to be seen by his local authority's wheelchair service. He was given a very heavy basic self-propelled wheelchair which he really struggled to manage himself.
Early in 2020, the family applied to Variety for help towards the purchase of a lightweight active wheelchair. As a result of generous funding received from a corporate sponsor, Variety was able to purchase the wheelchair for Andrew in August 2020.
Andrew's new lightweight wheelchair has made a huge difference to his life. Due to Covid-19, he has not been 'out and about' as much as he usually would, but has started doing his twice weekly fitness sessions in his chair, and also begun usiing his chair to help him get onto the tennis court. Andrew maintains: "This new chair is making a significant difference to my independence, and it has certainly made a difference to my mindset. Pushing is so much easier due to the chair being so much lighter than any previous chair I have had – this is where I notice the biggest difference – as well as the fact that it fits me properly. I use the wheelchair in the home, to help me to cook, to move around the house, to be more independent and to get fitter".
As an added bonus, Andrew's mum doesn't now hurt her back when loading Andrew's wheelchair into the car, as it only weighs 8 kg, down from the hefty 20 kg that the previous wheelchair weighed. As the wheels are easily removed, the new chair is also so much more compact and fits better in the car – which gives Andrew plenty of space for all his tennis gear and his sports wheelchair. When Andrew starts to drive, it will be easy for him to manage putting the wheelchair into the car by himself, as he transfers from the chair to the car.
Andrew's mum Linda tells us:
"I cannot find the words to express our gratitude to Variety for supporting Andrew with the purchase of his new, lightweight wheelchair. This has totally changed his outlook for college, and has given him something that will help him strive towards greater independence, both at home and when out and about."
"When Variety phoned with the news, I was totally overcome with emotion as this meant so much to us – especially Andrew. We never thought this day would come, but remained ever hopeful. I strongly hope that people get to hear Andrew's story and that it inspires them to support Variety in the future. All too often, charitable donations appear to go into 'the ether' and it's very hard to see what difference even a small amount of money can make to the lives of others. I hope that in Andrew's case, others will see what this means to him and that they will support Variety's efforts going forwards."
"Andrew plays wheelchair tennis between six and eight hours per week, and his new chair will also make a massive difference here too. He has to push his special tennis (sports) wheelchair and accessories onto the court, whilst propelling himself. With the new, lighter wheelchair, this will now be so much easier, and he'll be able to cope without me being on hand every time to assist him."