21st March 2018
Hollie's Story
London and the South East
Equipment grants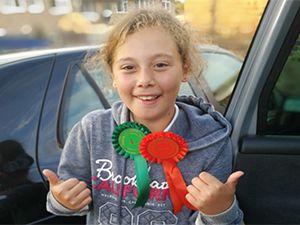 Type 1 diabetes is a lifelong auto-immune condition in which the pancreas fails to produce insulin, resulting in dangerously elevated or dangerously low blood sugar levels. Unless the condition is carefully monitored and regulated, it can lead to permanent life-threatening health problems in adulthood.
Hollie loves horse riding and dancing, but because her glucose levels have to be monitored regularly to keep her safe, diabetes has a serious impact on her daily life.
Variety was able to fund a Continuous Glucose Monitoring (CGM) System that makes it possible for Hollie's glucose levels to be monitored constantly and for any dangerous patterns to be identified in real time. This means she doesn't have to put her life on hold as her food and insulin intake can be adjusted to avert the risk of a serious swing in her blood sugar.
Hollie's parents said:
"Hollie is getting on amazingly well with her CGM System and we are all much more relaxed now we can intervene faster to manage blood sugar highs and lows. It's even made it possible to avoid trips to the hospital as we can anticipate any problems.

Over the summer holidays Hollie had the freedom to go out and play with her friends which she couldn't do before. She was even able to compete in her first horse show, something that just would not have been possible without the monitor.

As a family we cannot thank Variety enough for helping to give Hollie the freedom to make the most of her life and to begin to come to terms with managing her diabetes."