23rd August 2016
Henry's powered wheelchair story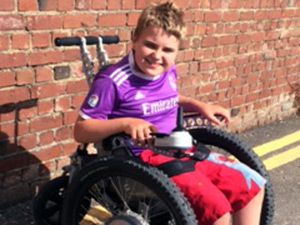 Henry now attends secondary school and while there is good wheelchair access there, a manual wheelchair does not enable Henry to participate in activities like football and Scouts or even join in many family activities.
What he really needs is a powered chair that will give him true independence so he can keep up with his friends and family at school and at home. That's why Variety helped to provide a Trekinetic powered wheelchair with additional funds being raised locally.
Along with improved mobility came improved self-confidence, and a consequent reduction in the frustration and anger that arose from being excluded.
Henry's mum says:
"The new wheelchair has really changed his life. We recently took it on holiday with us and now that he can keep up with everyone he is super happy. Thank you so much."