1st May 2015
Henry's adjustable bed story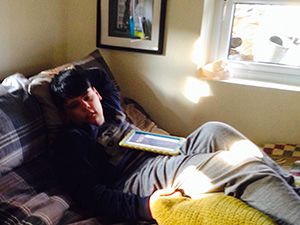 Hormone deficiency and his medication regime have resulted in a considerable weight gain; Henry is now 18 stone. This not only makes it difficult for his parents to assist him with movement, but it is physically stressful for them.
Henry is fully dependant on one to one care for his basic needs. He gets stressed easily, which is a problem with the other children at school, and small illnesses seriously affect him. Henry relies on a wheelchair for mobility but cannot effectively transfer from sit to stand or move from or to a lying position.
To help make life a little easier for Henry, and his parents, Variety funded a specialist electronically adjustable double bed. This not only provides essential comfort, but more independence of movement.
Henry says:
"It's great. I can sit up myself and even look out of the window, plus, people helping me to get dressed don't have to bend over me now. A massive "thank you" to Variety.