26th June 2015
George's Story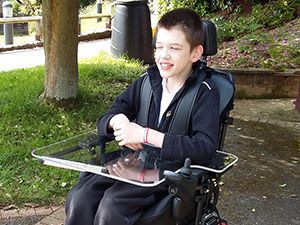 He does have good use of his left hand which enables him to drive a powered wheelchair but now, aged 14, George has outgrown the wheelchair he has had for six years and the local authority have decided they are no longer able to provide a replacement. George boards two nights a week at his school and this will increase to four nights as his education progresses. He needs a powered wheelchair to independently move around the classroom and attend the numerous activities he likes to participate in.
George is very sociable and enjoys talking with his friends and being involved in activities with them.
His school is very supportive, believing that independence helps improve education, learning and social skills.
To enable George to maintain his education and to continue to enjoy his social activities, Variety agreed to provide a new powered wheelchair.